2018 Dragon Boat Race & Fun Day - Sponsored by Trident Honda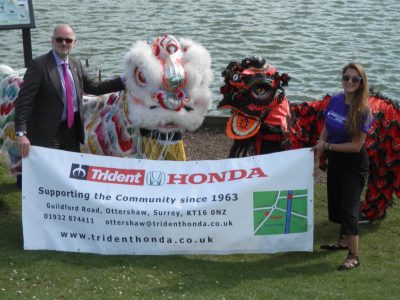 Date: 23/02/2018
Oars at the ready for the 2018 annual Dragon Boat Races and Fun Day where you and your team will race against the competition to raise funds for Woking & Sam Beare Hospices!
Teams of 12-20 rowers will take to the waters of Goldsworth Park Lake on Sunday 3 June 2018 in colourful Dragon Boats and paddle furiously across the waters to be crowned the winners.
The Dragon Boat Race dates back 2000 years throughout southern China and has now taken place annually for 20 centuries. The races are traditionally started with a special ceremony for good luck, performed for us by dancers and Chinese lions from the Chinese School of Woking.
In addition to the spectacle of the races there will be lots to enjoy on the banks of the lake, including a BBQ, face-painting, plant stall, tombola, refreshments and much more.
The Dragon Boat event will once again be held in memory of keen hospice supporter Kris Cook, who grew up close to the lake where he pursued his love of water sports.
This is a great event for families, groups of friends and colleagues, clubs and any team who is up for lots of fun. Participants aged from 12 to 18 must be accompanied by an adult in their team. No experience is required and all equipment is provided - just bring your energy and your warrior spirit!