Honda to Supply F1 Power Units to Red Bull Racing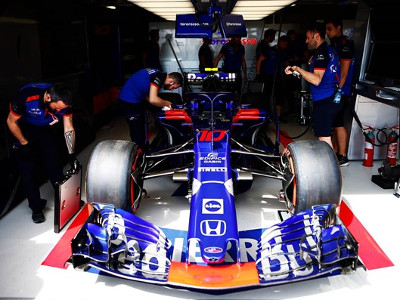 Honda and Red Bull Group have signed an agreement whereby Honda will enter into a partnership with Red Bull Racing to supply it with power units for two years from the start of the 2019 FIA Formula One* World Championship. This will be in addition to its current agreement with Red Bull Scuderia Toro Rosso. The two Red Bull-owned teams will run identical specification Honda Power Units.
Takahiro Hachigo, President and Representative Director of Honda Motor Co. Ltd, said:
Having established a good relationship with Scuderia Toro Rosso, we have decided to extend our Formula One involvement to the other team in the Red Bull family, Aston Martin Red Bull Racing, as from the 2019 season. Having two teams means we can access twice as much data as previously. We believe that working with both Toro Rosso and Red Bull Racing will allow us to get closer to our goal of winning races and Championships, building two strong partnerships. Discussions proceeded very quickly, thanks to Red Bull's open and respectful attitude towards Honda, leading to a deal that is fair and equitable for all parties.
Dr. Helmut Marko, Red Bull Motorsport Advisor
This partnership with Honda signals a new era for Red Bull Group in Formula One with both the Toro Rosso and Red Bull Racing teams benefitting from common supply co-ordinated through Red Bull Technology. We have been extremely impressed by Honda's commitment and progress and share like minded ambitions to compete for Championships. With this integrated approach between the companies we very much look forward to working with Honda.
Christian Horner, Aston Martin Red Bull Racing Team Principal
This multi-year agreement with Honda signals the start of an exciting new phase in Aston Martin Red Bull Racing's efforts to compete not just for grand prix wins but for what is always our goal - championship titles. We have always taken decisions such as this dispassionately and with only one criteria in mind - do we believe the outcome will allow us to compete at a higher level. After careful consideration and evaluation we are certain this partnership with Honda is the right direction for the team. We have been impressed by Honda's commitment to F1, by the rapid steps they have made in recent times with our sister team Scuderia Toro Rosso, and by the scope of their ambition, which matches our own. We look forward to working with Honda in the coming years and to racing together in pursuit of F1's biggest prizes.