Honda reveals engineering behind strongest, safest and most dynamic CR-V ever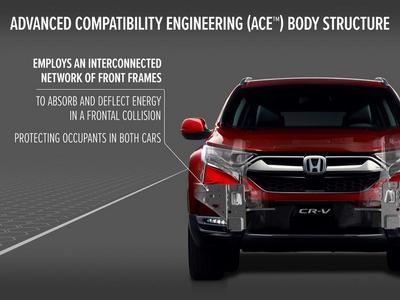 Honda has now revealed the engineering behind the strongest, safest and most dynamic CR-V ever:
New generation of ultra-high-strength steel contributes to lightest and most rigid CR-V chassis ever, resulting in improved crash-worthiness
All-new suspension delivers comfort and driver-focused dynamics
Honda Real Time AWD System improves compatibility with various road conditions and increases fuel-efficiency
CR-V now safer than ever thanks to award-winning ACE™ body construction and enhanced safety technologies
Thanks to a comprehensive, ground-up design and engineering programme, the all-new Honda CR-V features the strongest and most sophisticated chassis in the nameplate's history. A low-inertia and highly rigid platform is enabled through new body construction that uses advanced lightweight and high-tensile materials.
The CR-V has been specifically tuned to not only comply with European standards but also to wow drivers with amazing performance, providing confidence and comfort that can be felt even when driving at high speeds.
The Real Time AWD System offers more dynamic cornering performance and will assist in hill-climbing, whilst the new suspension and steering systems also deliver world-class driving dynamics, supported by Honda's class-leading active and passive safety systems.
Advanced metallurgy and manufacturing processes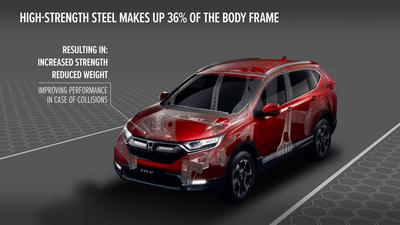 New generation, hot-stamp ultra-high-strength steel is used for the first time in the new CR-V, making up 9% of the all-new model's body frame, resulting in increased strength in the areas most affected in a crash, whilst also reducing overall weight of the chassis.
The combined use of high-strength 780 MPa, 980 MPa and 1500 MPa steel is 36% in the new CR-V, compared to 10% on the previous car. This combination of superior materials with sophisticated engineering processes has also lead to a 35% increase in bending rigidity and a 25% increase in torsional rigidity.
The body assembly process involves an innovative high-efficiency joining technique, whereby the entire inner frame is assembled first, followed by the outer frame, and then the joints. This production technology defies the conventional method of body frame assembly and contributes greatly to the overall body stiffness.
Rewarding dynamics and exemplary comfort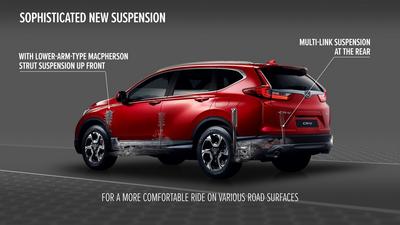 All-new suspension complements the boost in body rigidity, contributing to the most driver-focused dynamics in the CR-V model's history. Ride comfort is improved over its predecessor, with a new mechanical set-up designed to be compatible with all road surface conditions.
Lower-arm-type MacPherson strut suspension at the front provides high lateral rigidity for linear handling, and low longitudinal rigidity for optimised ride compliance, whilst an all-new rear multi-link suspension set-up delivers increased geometrical stability for predictable high-speed driving, superior ride comfort and more linear handling in conjunction with the Electric Power Steering.
The steering itself is a dual pinion variable-ratio electric power-assisted rack-and-pinion system, which on this European-market CR-V is specifically tuned to deliver exceptional feedback, improved linearity, smoothness and accuracy.
A solid rear stabiliser bar sharpens turn-in and reduces body roll, while a new floating, rubber-mounted sub-frame structure improves noise isolation over the previous CR-V. Hydraulic suspension bushings, normally reserved for luxury-class vehicles, are fitted at the front and rear, resulting in superior ride isolation as well as enhanced chassis vibration control.
Agile Handling Assist (AHA) and Real Time AWD system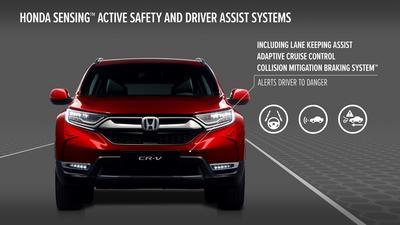 Honda's Agile Handling Assist (AHA) is fitted to the CR-V for the first time. The electronic stability system has been specially tuned for Europe to reflect typical road surface conditions and driving styles. It responds to steering inputs with subtle, discreet assistance for added safety and smoother, more predictable vehicle behaviour including stable cornering and lane change at roundabouts, both at low and high speeds.
Honda's latest all-wheel drive technology - the 'Real Time AWD with Intelligent Control System™' - is available as an option on the all-new CR-V. Software updates to the AWD system result in the ability send up to 60% of torque to the rear wheels when required, particularly during a hill climb. The driver can track the torque distribution through an indicator on the instrument panel. Through revisions to the calibration, the system also offers more dynamic cornering performance though feedback from the yaw rate and steering sensors.
Industry-leading safety performance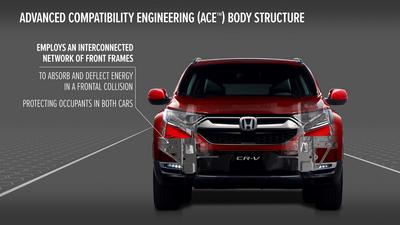 As with all Honda vehicles, the all-new CR-V platform incorporates Honda's exclusive next-generation ACE™ (Advanced Compatibility Engineering) body structure, which employs an interconnected network of front frames to absorb and deflect energy from a frontal collision. Honda's system is not only designed with 'self-protection' in mind, but also to minimise damage to other vehicles in the event of a head-on collision though its 'compatibility' engineering which absorbs crash energy and deflects it through multiple load paths around the passenger cell in the Honda car.
The ACE™ passive safety system is complemented in the new CR-V by the Honda SENSING suite of active safety and driver assist technologies, which is installed on all grades and includes Lane Keeping Assist, Adaptive Cruise Control, Forward Collision Warning and Collision Mitigation Braking System.
Video
Further information
First deliveries of the all-new Honda CR-V in Europe are expected in Autumn 2018, with a 1.5-litre VTEC TURBO petrol engine available from launch, and hybrid models following early in 2019. To be one of the first to own the all-new Honda CR-V, please Contact Us or call our sales team on 01932 874411.
To learn more about the 2019 Honda CR-V, please visit our Related Posts.