2019 Honda CR-V VTEC TURBO Petrol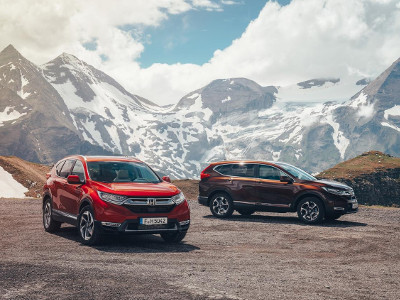 Introduction: All-new version of the world's best-selling SUV
Improved comfort, convenience and connectivity
More spacious, and seven-seat option for the first time
Petrol engine delivers class-leading combination of performance and efficiency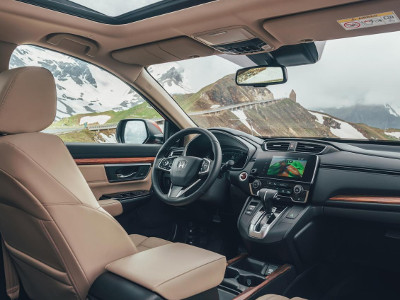 Since the introduction of the first-generation model in 1995, the Honda CR-V has gone on to become the world's best-selling SUV1. This latest evolution of the popular compact SUV has been developed to exceed the expectations of customers, with enhanced and unique characteristics. The new CR-V now features a range of sophisticated technologies and superior quality throughout.
The CR-V has a fresh and sophisticated exterior design, with broader, muscular wheel arches, sharper contours on the bonnet and rear quarters, as well as the latest Honda family 'face' with its signature headlight graphic.
The new model raises the bar in terms of interior quality, sophistication and spaciousness - including, for the first time, the option of seven seats on petrol AWD models. Benchmarked against premium-brand products, it delivers improved ride quality, steering response, body control and NVH management. Evolved in every way, the all-new CR-V delivers more comfort, convenience and connectivity than ever before.
The all-new CR-V's slightly larger exterior proportions, longer wheelbase and wider stance enable a significantly larger interior. Best-in-class space efficiency is highlighted by the generous space available for all occupants, as well as a wider, deeper boot with a longer load bay. A new two-position boot floor enables a flat surface for loading larger items, while a hands-free power tailgate enables convenient loading access.
Clever features make the new CR-V easier to use every day. For example, the height of the tailgate when opened can be programmed to avoid contact with low ceilings, while cabin flexibility is boosted by a three-mode centre-console storage, and new single-action 'dive down' 60:40 split-fold second-row seat backs that enable faster, easier loading.
The platform design incorporates Honda's exclusive next-generation ACE™ (Advanced Compatibility Engineering) body structure, which employs a network of connected structural elements to distribute crash energy more evenly. In addition, standard across the range is Honda SENSING, among the most comprehensive suites of active safety and driver-assistive technologies in the class, combining radar and camera information to assist the driver.
Sophisticated and sporty exterior design, with a familiar silhouette and premium-quality interior
Fresh exterior design with a longer wheelbase, larger wheels and tyres for a muscular, athletic stance
Modern and dynamic SUV styling that omits unnecessary lines
Advanced aerodynamics, including the first application on a CR-V of Honda's Active Shutter Grille system
Premium interior conveys strength and solidity, finished in highly tactile materials
The all-new Honda CR-V retains the familiar silhouette of the world's best-selling SUV, with an evolutionary design that is sophisticated and sporty. The new CR-V has a fresh exterior design, with broader wheel arches and sharper contours on the bonnet and rear quarters, as well as the latest Honda signature headlight graphic.
Key design principles for the new CR-V were to create a modern and dynamic SUV that was also highly functional. Honda aimed for a refined and sophisticated proposition, with clean and contemporary styling that omits unnecessary lines.
One of the fundamental changes made by engineers was to extend the length of the wheelbase by 30mm. This change not only provides more space inside, but contributes to the more muscular stance of the SUV, with the wheels now placed closer to each corner. A large wheel-and-tyre combination, coupled with a short rear overhang and dual exhaust tailpipes, enhances the athletic impact of the car.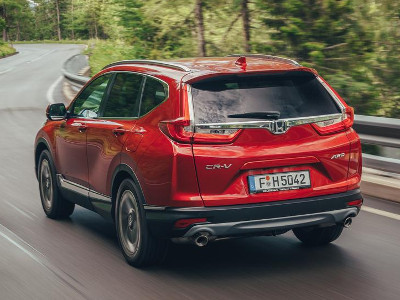 At the front, a bold design integrates the latest Honda family 'face', including the solid wing graphic and signature headlight shape, with LED illumination as standard. A solidly sculpted front bumper, with cleaner surfacing compared to its predecessor, frames a slim grille in the front valance. Sharp contours on the bonnet lead the eye up to a sleek, flush-mounted windscreen, from where the roofline flows back to a tailgate spoiler.
The rear haunches are more heavily contoured compared to the previous generation CR-V, complemented by wider arches over all four wheels. Its dynamic appearance is enhanced by a high, taut shoulder line - increasing the volume beneath - and a lustrous trim strip that rises as it runs from behind the front wheels to the rear of the car.
A kink in the top window line, as it reaches the back of the car, runs in parallel with the contour of the tailgate. The chrome finisher strip turns back on itself sharply, joining the flick up from the belt-line at the bottom of the window area, further enhancing the sporty aesthetic.
Sharply sculpted LED rear lights flow away from the trailing edge of the shoulder line, then wrap around the rear of the car to create an L-shaped graphic on each side that contains the rear window glass. It is finished by a chrome solid wing bar that runs the width of the tailgate between the lenses.
Customers can choose from eight exterior colours: solid Rallye Red, metallic Lunar Silver, Modern Steel, Cosmic Blue and Premium Crystal Red, and pearlescent Platinum White, Crystal Black and Premium Agate Brown.
Alloy wheels will be available in 17, 18 and 19-inch sizes, depending on specification, and top-grade cars will be equipped with a panoramic glass sunroof as standard.
Advanced aerodynamics
The all-new Honda CR-V is the most aerodynamically efficient vehicle in its class2, and was developed with a combination of computational fluid dynamics, scale-model wind-tunnel testing, and Honda's first full-scale wind-tunnel testing incorporating a running belt.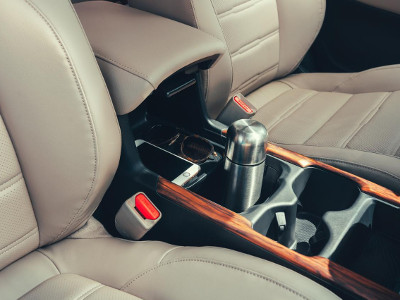 Narrow A-pillars offset the large shoulder volume, and frame a flush-mounted windscreen above neatly recessed wiper arms. Combined with the carefully sculpted front bumper, air disturbance is reduced around the leading edge. A sleek roofline, featuring a fin-type antenna, is complemented by under-engine and under-floor covers that enable a smooth flow of air above and beneath the CR-V, which reduces drag and improves stability.
The rear bumper edges are contoured towards the centre of the car, ending in sharp creases at each side. In combination with the prominent edges for the rear light lenses higher up the body, these creases help to detach airflow cleanly from the sides. A functional spoiler at the top of the tailgate further reduces disturbance at the rear. An overall reduction in aerodynamic drag compared to the previous CR-V also reduces the booming effect from body panels and extrusions, thus benefiting both fuel efficiency and interior quietness.
Air inlets at the front beneath the chrome Honda badge on the nose feature Honda's Active Shutter Grille system to improve fuel efficiency. By default, the system keeps the grille shutters closed as much as possible, even in city driving, to improve the aerodynamic performance. However, when required, the system operates an electronic step motor to open the grille shutters as much as necessary to allow airflow into the engine bay. A central processor tracks major temperature parameters for engine coolant, transmission oil and air-conditioning requirements, to determine the ideal state for the shutters.
Premium quality interior
A strong horizontal emphasis applied to the instrument panel and fascia layout enhances the feel of spaciousness in the cabin. Sleek design conveys a sense of strength and solidity, while a variety of highly tactile materials reinforce the premium ambience.
An expansive and intricately-stitched soft-touch panel sweeps across the width of the cabin, bisected by a gloss black accent, and the upper sections of the door panels feature soft-touch caps for driver and passenger comfort. Honda has increased the space in the front footwells by raising the lowest parts of the dashboard.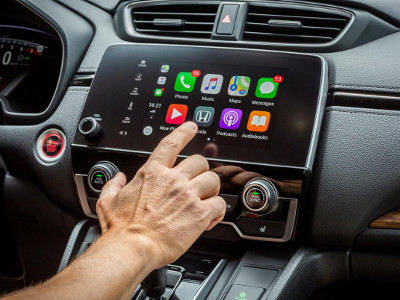 Smooth and sophisticated wood-effect trim, applied to the door cards and lower section of the dashboard, provides a dash of natural colour. Lustrous metallic trim embellishes the air vent bezels, steering wheel trim, door handles and the climate control panel, adding a contemporary finish. Premium seat upholstery is plush black fabric as standard, while high-quality supple leather is available in a choice of black or ivory for upper grade models.
Honda has rationalised the screen layout compared to the previous generation CR-V, now featuring just one central touchscreen,in addition to the 7-inch Driver Information Interface (DII) visible through the steering wheel. The control knob layout has also been simplified, including a simple cluster for air-conditioning management located beneath the touchscreen.
Class-leading forward visibility is afforded by a narrow section for the A-pillars, which are 10mm thinner than on the previous model, to improve the outward viewing angle. Honda has, nonetheless, been able to maintain the superior safety characteristics of the pillars by using ultra high-strength steel. The view of the road from over the bonnet has also been improved, thanks to a reduction of 60 mm in the body area not visible to the driver.
Full smartphone integration
The second-generation Honda Connect software in the new CR-V offers enhanced intuitive operation and full, seamless smartphone integration via both Apple CarPlay and Android Auto.
Integration with Apple CarPlay means that Honda Connect now brings iPhone functionality to the driving experience, delivering the interface through the CR-V's built-in display. Drivers can get directions, make calls, send and receive messages, and listen to music from the touchscreen or by voice using Apple's Siri commands.
Android Auto has been designed to give drivers a simple, intuitive way to use Android smartphones through both touch and voice interfaces, minimising the potential for distraction. Supported features include Google Maps, Google Now, messaging, music and numerous other popular apps, depending on the market.
Driver Information Interface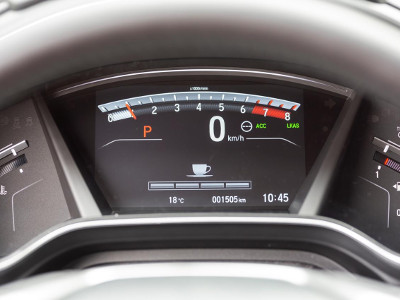 Ahead of the steering wheel sits an all-new instrument binnacle, featuring a large full-colour 7-inch TFT-LCD Driver Information Interface (DII) central display, flanked by coolant-temperature and fuel-level gauges. The new DII includes a large digital speedometer and linear tachometer readout. Integrated into the lower half of DII is a 'content zone' in which the driver can scroll through and choose from a variety of infotainment content, including navigation instructions, SMS and email text display (including voice activated responses), audio track information, smartphone contacts, all-wheel-drive system status, and smart vehicle maintenance information.
Scrolling and selecting the information to display in the DII is performed via thumbpad controls on the left spoke of the steering wheel. It gives the driver the capability to scroll through the DII modes and adjust settings, perform alphabetic searches - of contacts or music tracks, for example - as well as select the preferred information to display in the instrument binnacle's DII. Also on the left spoke of the steering wheel are the integrated Bluetooth(r)3 HandsFreeLink(r) telephone controls. The combination of thumbpad controls and DII display in the driver's forward line-of-sight helps to minimise distractions while underway.
A second thumbpad on the right spoke of the steering wheel operates the adaptive cruise control and lane keeping assist system settings.
Powerful petrol engine with real-world efficiency and effortless driveability
1.5 VTEC TURBO petrol engine offers class-leading combination of power and efficiency
Advanced technologies improve responsiveness and reduce friction and weight
Honda's latest CVT delivers more direct, linear transmission feel
The new CR-V makes use of Honda's 1.5-litre VTEC TURBO petrol engine that was first seen in the latest Honda Civic, and has been adapted to include an exclusively-designed turbocharger for CR-V. It offers a remarkable and class-leading combination of power and efficiency, and features numerous technologies to achieve optimum drive-ability and performance.
Power output for the VTEC TURBO is 173 PS (127kW) at 5,600 rpm when equipped with the six-speed manual gearbox (6MT), and 193 PS (142 kW) at 5,600 rpm for CVT models. Maximum torque is 220 Nm between 1,900 and 5,000 rpm for 6MT and 243 Nm between 2,000 and 5,000 rpm for CVT.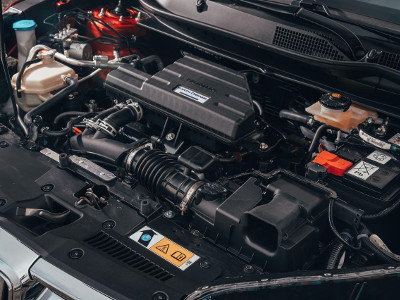 The new VTEC TURBO engine delivers environmental performance that is among the class leaders. Official CO2 emissions are 143 g/km for the 6MT front-wheel-drive model and 162 g/km for CVT-equipped cars - which are fitted with all-wheel drive as standard. Fuel economy on the NEDC combined cycle is 6.3l/100 km (44.8 mpg) for the 6MT FWD model and 7.1l/100 km (39.8 mpg) for the CVT AWD car.
A boost in power compared to the previous petrol CR-V means that the new car delivers greater performance as well as significantly improved efficiency. Acceleration from 0-100 km/h takes 9.3 seconds, with a top speed of 211 km/h (131 mph).
Advanced technologies in the VTEC TURBO unit optimise power and efficiency, improving the responsiveness while reducing internal friction and weight.
Cylinder block and crankshaft
A lightweight, die-cast aluminium block with individual reinforced main bearing caps minimises weight, while cast-iron cylinder liners maximise durability. Each journal on the lightweight forged steel crankshaft is micropolished to reduce internal friction.
Cylinder head and valvetrain
The lightweight DOHC cylinder head is made of pressure-cast aluminium alloy. With exhaust ports cast directly into the cylinder head, the need for a traditional separate exhaust manifold is eliminated. A low-friction, silent chain drives dual overhead cams and four valves per cylinder. The cam drive is maintenance-free throughout the life of the engine. To help further reduce weight, new thin-wall hollow camshafts are used.
To benefit fuel efficiency, emissions and power, the exhaust valves are sodium filled. A hollow chamber within the valve contains sodium that is cooled by the exhaust port cooling jacket. As the cam reaches close to the valve head, the sodium helps to cool the entire valve. As the valve is internally cooled, there is no need for an enriched fuel mixture - a common requirement in turbo engines to help cool the exhaust valve. The resultant leaner mixture reduces emissions, increases fuel efficiency and boosts power output.
Dual-VTC varies the timing of both the intake and exhaust camshafts independently and continuously for optimised combustion to suit the driving conditions. Valve overlap can be increased or decreased depending on engine speed and load, to increase engine output, responsiveness or efficiency as required.
Piston cooling and friction-reducing technology
The engine's pistons help maintain stable combustion and contribute to improved efficiency with cavity-shaped crowns. The lightweight pistons have a carefully optimised skirt design to minimise reciprocating weight, as well as a low-friction coating applied in a unique pattern, which reduces vibrations and increases operating efficiency. The pistons on the 1.5-litre VTEC TURBO are cooled by twin oil jets directed at the underside of each piston crown, while ion-plated piston rings help reduce friction for greater operating efficiency.
Plateau honing further lowers the friction level between the pistons and the cylinders by creating an ultra-smooth surface. Plateau honing uses two grinding processes instead of the more conventional single-stage process. This also enhances the long-term wear characteristics of the engine.
Low viscosity oil (0W-20), a special two-stage oil pump relief valve, low-friction oil seals, special low-drag piston ring design, low-friction cam chain and a lightweight crankshaft also contribute to excellent overall operating efficiency.
Low-inertia mono-scroll turbocharger with electronic wastegate
Compared to other small displacement turbocharged engines, the turbocharger unit for the VTEC TURBO is more compact, with a small-diameter turbine. This is imperative for maximum responsiveness. The mono scroll housing design helps the turbo build boost pressure even at relatively small throttle openings and low rpm. Furthermore, the electrically actuated wastegate allows boost pressure to be precisely controlled.
Optimised CVT automatic transmission
The optional CVT automatic transmission was newly designed for deployment with Honda's latest VTEC TURBO engines. It features a turbine twin-damper for the torque converter, which improves refinement and driveability, and helps to smooth out initial acceleration.
Compared to traditional CVT systems which often exhibit a 'rubber band' feel in acceleration, Honda's latest CVT unit produces a totally different, more direct and familiar delivery of engine speed, with a stepped-ratio effect, which in turn results in a more linear response. The response and feedback from the CVT was targeted to feel similar to that experienced with a dual-clutch transmission.
Honda's CVT features two additional programmes that provide situation-specific safety and driveability enhancements.
Early Downshift During Braking (EDDB) uses the engine to assist the driver during braking. When the system recognises a deceleration, a downhill section, or a cornering situation initiated by the braking system, EDDB automatically increases the engine speed to provide engine braking. This then allows for quick re-acceleration after slowing or quick acceleration after cornering.
'Fast Off' measures how quickly the driver releases the accelerator pedal and maintains engine revs to provide engine braking in situations where the driver has released the pedal quickly. This system has been extensively tested for Europe's high speed, multi-lane roads. For example, Fast Off recognises when the driver has prepared to pass a vehicle in front, but is unable to complete the manoeuvre due to a vehicle in the next lane. As the driver quickly releases the accelerator pedal to let the vehicle behind pass by, Fast Off maintains a high engine speed in preparation for completing the overtaking manoeuvre.
The most sophisticated CR-V chassis ever, with engaging dynamics and exemplary ride comfort
Chassis is lighter and more rigid than ever before, enabling advanced dynamic tuning
Platform features new generation of ultra-high tensile steel, for improved dynamics and crash-worthiness
Innovative assembly techniques enhance rigidity and NVH management
All-new suspension delivers a comfortable and fun-to-drive experience
Class-leading interior refinement, incorporating noise cancellation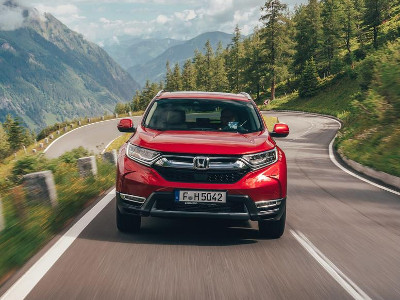 The all-new CR-V is based on Honda's latest chassis design, which is the most sophisticated ever engineered for a CR-V and ensures the car delivers an engaging driving experience with exemplary ride comfort.
The lightweight and rigid construction features a low centre of gravity, with sophisticated front and rear suspension systems, new control technologies, and new variable-ratio steering. Honda's latest all-wheel drive technology - the 'Real Time AWD with Intelligent Control System™' - together with increased ground clearance, gives the CR-V genuine all-terrain capability.
A low-inertia and highly rigid platform is enabled through new body construction that uses lightweight, high-tensile materials that are among the most advanced in the industry. Honda worked closely with a supplier of a new generation of ultra-high strength hot-stamped steel, which increases strength and reduces the overall weight of the entire body frame. Use of hot-stamp ultra-high strength steel increases from 0% in the previous CR-V to nearly 9% in the all-new model. The combined use of high-strength 780 MPa, 980 MPa and 1500 MPa steel is 36% in the new CR-V, compared to 9% on the previous car.
Advanced new unibody
Superior materials and sophisticated engineering processes underpin the CR-V's new platform design, and have helped to create a chassis that is lighter than that of the previous generation CR-V, with a 25% increase in torsional stiffness. The rigidity of the unibody contributes significantly to the car's impressive NVH characteristics.
The body assembly process also involves an innovative high-efficiency joining technique. The entire inner frame is assembled first, followed by the outer frame, and then the joints. This defies the conventional method of body frame assembly, which sees the outer frame assembled first, followed by inner assembly and the joints. This new production technology contributes greatly to the overall stiffness of the body.
Short-pitch welding places spot welds 20 mm apart in critical areas of the unibody, compared to traditional spacing of between 40 mm and 45 mm. This further contributes to increased stiffness and durability.
These design, engineering and manufacturing innovations result in a 35% increase in the body's global bending rigidity compared to the previous generation CR-V, and a 25% increase in torsional rigidity. This in turn provides a greater opportunity to tune the suspension for superior ride and handling performance, and helps to safeguard European standards of quality and refinement.
Rewarding dynamics and exemplary comfort
All-new suspension and a boost in body rigidity contribute to the most engaging and fun-to-drive experience ever found with a CR-V. Ride comfort is improved over its predecessor, with a new mechanical setup and the integration of advanced compliance-boosting technologies.
A wider body stance and longer wheelbase contribute to improved stability, complemented by a larger wheel and tyre size combination. Despite an improvement of 35 mm in ground clearance, the new CR-V's centre of gravity is identical to that of its predecessor.
The sophisticated platform provides an optimised foundation for the most driver-focused dynamics set up in the CR-V model's history. The engineering team set out to create a highly agile SUV with linear responses, under the 'one motion, one input' concept that focuses on predictability and immediacy of the dynamic experience.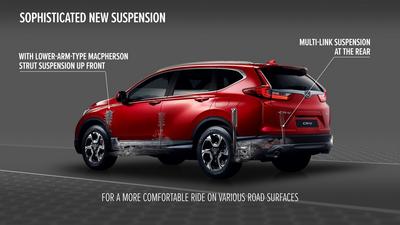 At the front, lower-arm-type front MacPherson strut suspension provides high lateral rigidity for linear handling, and low longitudinal rigidity for optimised ride compliance. Dual pinion variable-ratio electric power-assisted rack-and-pinion steering - which is also featured on the latest Honda Civic - has been specifically tuned for the CR-V and for European markets. The dual pinion system delivers exceptional feedback, with instantaneous responses that improve linearity, smoothness and accuracy.
Vibration transfer to the steering wheel is minimised by increasing the steering column diameter to 30 mm - 36% wider than on the previous CR-V - and locating the lightweight steering motor on the dual pinion rack, rather than in the conventional position on the steering column. Low-speed manoeuvrability has improved, with a 26% reduction in lock-to-lock measurement, down to 2.3 turns.
At the rear, an all-new rear multi-link suspension set-up delivers increased geometrical stability for predictable high-speed driving, superior ride comfort and more linear handling in conjunction with the EPS tuning. A solid rear stabiliser bar sharpens turn-in and reduces body roll, while a new floating, rubber-mounted, subframe structure improves noise isolation over the previous CR-V.
Hydraulic suspension bushings, normally reserved for luxury-class vehicles, are fitted at the front and rear, resulting in superior ride isolation as well as enhanced chassis vibration control.
Larger brakes are fitted to all four wheels compared to the previous CR-V, with 296 mm discs at the front and 300 mm discs at the rear and are enhanced by the addition of an electric brake booster (EBB), delivering class-leading braking performance and feel. The EBB calibrates braking performance to vehicle speed and driver input, and can build up superior hydraulic pressure more quickly and with less pedal effort in all braking situations compared to conventional systems.
Agile Handling Assist (AHA)
Honda's Agile Handling Assist (AHA) is fitted to the CR-V for the first time. The electronic stability system has been specially tuned for the European market to reflect typical road surface conditions and driving styles. It provides subtle, discreet assistance for added safety and smoother, more predictable vehicle behaviour at low and high speeds, and with both gentle and rapid steering inputs.
Class-leading interior refinement
The all-new platform contributes to class-leading interior quietness and refinement. The exemplary management of NVH is the result of minimising the generation of noise and vibration, their transfer through the body structure, and extensive sound sealing and insulation techniques.
Minimised generation of engine noise is aided by the first application of Active Noise Cancellation (ANC) in a CR-V, which is standard across the range. ANC is designed to reduce low-frequency noise in the interior. It uses two in-cabin microphones to monitor for such noises from the engine, and can then create precisely timed 'reverse phase' audio signals to cancel them out. The system operates whenever the car is running, regardless of whether the audio system is on or off.
Engine noise is further mitigated by dedicated front, side and rear bonnet seals, a bonnet insulator panel, an engine under-cover and dedicated insulation material within the dashboard. In the cabin, a one-piece carpet liner adds further isolation from exterior noise.
Strategically placed body sealants, as well as acoustic separators inside the A-, B- and C-pillars, and the flush-mounted windscreen, contribute to the overall cabin quietness. The separators in the pillars reduce the transmission of noise from the floor area into the cabin, while 360-degree moulded triple door seals reduce wind noise and improve isolation. Each side window also has sealing blocks the lower front and rear corners to fill the gaps between the body and the glass and further reduce noise intrusion.
The large body panels are shaped using computer aided engineering (CAE) with a specific goal of reducing booming noise. Acoustic undercovers and insulators for the front and rear wheel arches, as well as the cabin and boot floors, further reduce road noise and vibration.
Improved technologies enhance CR-V's real-world AWD performance and off-road ability
Increased ground clearance compared to its predecessor
Latest version of Honda's AWD software boosts off-road agility and enhances cornering dynamics
AWD system disconnects for higher efficiency when rear-wheel torque not required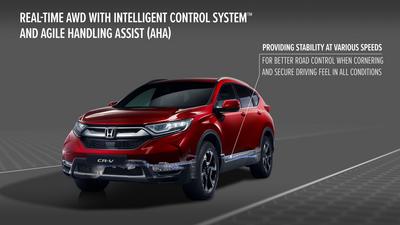 New CR-V's off-road capability is improved even from the base platform design, as it offers higher ground clearance that its predecessor with no impact on the centre of gravity.
Clearance underneath the car is increased to 191 mm for front-wheel-drive models, and to 201 mm for all-wheel-drive models. Both increases deliver a 35 mm higher stance than the previous CR-V. The ground clearance is in part helped by the larger-diameter wheel and tyre combinations, which also convey a more muscular stance.
Honda's latest all-wheel drive technology - the 'Real Time AWD with Intelligent Control System™' - is calibrated to deliver optimum fuel efficiency and driveability. It supports the front axle for smooth and efficient driving, even in everyday conditions, for example through powering the rear wheels when starting from a stop.
The all-wheel drive system employs a multi-plate clutch that connects a propeller shaft to the rear differential, and is operated by an electric motor driving a hydraulic pump. Its lightweight and fuel-efficient design provides an optimal balance of performance, with increased capability and security both on- and off-road, without adding unnecessary weight to the powertrain. When torque transfer to the rear wheels is not required, such as during high-speed cruising, the propeller shaft to the rear wheels is decoupled to reduce mechanical drag.
Software updates to the AWD system result in the ability send up to 60% of torque to the rear wheels when required, as well as an overall increase in torque through the system - up 10% to 550 Nm. The result is improved performance in low-traction conditions, as well as more responsive and capable hill-climbing performance.
Through revisions to the software calibration, the new AWD system also offers more dynamic cornering performance though feedback from the yaw rate sensor and steering sensor, in addition to the linear control of the actuator.
Class-leading space efficiency in the largest CR-V cabin ever
Long wheelbase and wider stance enable a significantly bigger interior
More space for all occupants, and the option of seven seats for the first time
Class-leading boot capacity and biggest ever load bay
Advanced convenience features including single-action 'dive down' seats and hands-free power tailgate
The new Honda CR-V raises the bar in terms of interior quality, sophistication and versatility, with slightly larger exterior proportions than its predecessor that enable a significantly more spacious interior.
All occupants are afforded generous space, thanks to a wider stance and a long wheelbase of 2,660mm - increased by 30mm over the previous model - that provides a 50mm increase in the 'tandem distance' between first- and second-row seating. The driver and front passenger benefit from a 5mm increase in headroom and 16mm more hip room compared to the previous-generation CR-V, while thinner and flatter proportions for the fuel tank ahead of the rear wheels contributes to an additional 50mm of legroom for second-row passengers.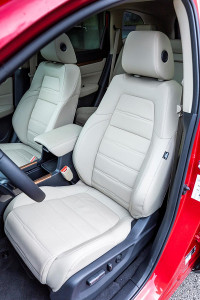 The front seatbacks of the new CR-V are sculpted to deliver optimum comfort for the driver and front passenger, while being as slim as possible to increase second-row legroom.
Four-way power lumbar support is provided for front seat occupants, which offers 80 mm of vertical adjustment and 35 mm of longitudinal adjustment. Energy-saving, fast-warming heated seats are also available, with heated seat cushions for front and rear occupants, and heated seat backs for the driver and front passenger.
For the first time ever on a CR-V, Honda is providing the option of seven seats, with exceptional third-row legroom to ensure passenger comfort over longer distances. Wide-opening doors and integrated interior grab handles provide class-leading ease of access, while the second-row seats slide forward by up to 150mm to create a larger entry aperture.
Boot capacity is class-leading, with the biggest ever loading bay 'footprint' in the CR-V model line's history. The 160mm increase in width and a maximum loading length of 1,830mm - up 250mm on the previous model (1,800mm for the 7-seater vehicle) - can accommodate a 19.5-inch frame mountain bike.
New single-action 'dive down' 60:40 split-fold seatbacks enable faster, easier loading, and a completely flat surface for larger items. Dropping either section of the second-row bench seat can be done single-handedly; the seat base lowers towards the floor to enable the rear seatback to lie flat on top of it. The seatback can be 'reset' single-handedly as well.
A host of clever features make CR-V more versatile than ever. The new two-position boot floor enables multiple configurations - a flat boot floor in the upper position to enable easier loading of larger items, or more space for taller loads in the lower position with a 100 kg loading weight capacity.
On top grades, a hands-free power tailgate is available, which features a height-setting function. Owners can set the opening height of the CR-V's power tailgate to a desirable limit depending on space available around the car, which is particularly useful in tight spaces with low ceilings, or when the back of a vehicle is near a wall. An on-demand 'Stop-and-hold' function allows the tailgate to be stopped at any desired position, which gives temporary control of the height opening (once opened beyond 1,185mm) without needing to program the setting.
A new three-mode centre console adapts to a variety of requirements. In its 'Console tray' mode, it can accommodate a 5.5-inch smartphone. The tray can be placed in forward or rearward positions, or stowed neatly, to enable three storage configurations. In the forward position, the smartphone tray covers up the main storage compartment for added security and privacy. When placed rearward, the tray keeps smaller items separated while enabling access to the compartment below. If the tray is stowed out of the way altogether, the storage compartment is large enough for a handbag or laptop.
Four USB charging points in the cabin enable multiple connections for phones, tablets and other personal electronic devices. There are 1.5-amp and 1.0-amp USB charging ports for front occupants, plus two high-capacity 2.5-amp USB charging ports at the back of the centre console for second-row passengers.
Cabin occupants can make use of extra-large capacity door pockets - 48% longer at front and 63% longer at the rear - enabled by moving speakers further up in door panels compared to the previous CR-V.
Industry-leading safety performance and Honda SENSING as standard
CR-V now safer than ever thanks to new body construction and enhanced safety technologies
Stiffer, stronger and with reduced cabin intrusion in the event of a crash
Honda SENSING is a comprehensive suite of active safety features
Anticipated to earn top Euro NCAP ratings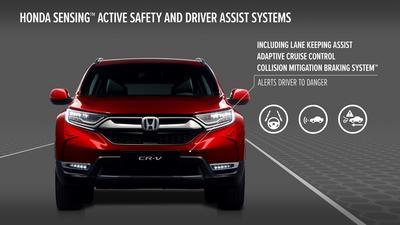 The all-new CR-V has been engineered to achieve industry-leading safety performance. The development team's success in creating class-leading body rigidity and stiffness, in conjunction with a comprehensive suite of active safety technologies, are anticipated to help it achieve five stars in the latest and toughest Euro NCAP safety assessment.
In line with Honda's 'Safety for Everyone' philosophy, the same passive and active safety systems are included across all grades of the new CR-V.
The exceptionally strong, rigid and stiff platform provides the foundation for exceptional safety performance, with an 'All Directions Collision Safety' concept. The platform design incorporates Honda's exclusive next-generation ACE™ (Advanced Compatibility Engineering) body structure, which employs a network of connected structural elements to distribute crash energy more evenly. This design helps to reduce the forces transferred to the passenger cell in the event of an impact, giving superior front, side and rear crash-worthiness.
The six airbags help to protect occupants in the event of a collision, and include i-SRS Airbag and i-Side Airbag technologies.
The passive safety features on the all-new CR-V are complemented by the Honda SENSING suite of active safety and driver assist technologies, which - in a first for Honda - is installed on all CR-V grades. Honda SENSING is among the most comprehensive suites of safety technologies in its class. It uses a combination of radar and camera information, plus a host of high-tech sensors to warn and assist the driver in potentially dangerous scenarios.
The Honda SENSING suite of active safety technologies includes:
Collision Mitigation Braking System: helps to bring the car to a stop if the system determines that a collision with a vehicle detected in front is unavoidable. A warning sounds, and if necessary, brake pressure is automatically applied
Forward Collision Warning: scans the road ahead to warn drivers of a potential collision, and provides visual and audible alerts to prompt the driver to take corrective actions to avoid a crash
Lane Departure Warning: will detect if the car is straying out of its current lane without the turn signal being activated, and provides an alert to prompt the driver to make a correction
Road Departure Mitigation: uses data from the windscreen-mounted camera to detect whether the car is veering out of its lane. It uses the Electric Power Steering to apply subtle corrections to keep the vehicle in its lane, and in certain situations can also apply braking force. The system switches off when it detects that the driver has regained control
Lane Keeping Assist System: helps to keep the car in the middle of the current lane, by detecting road markings with a monocular camera and making small adjustments to steer the vehicle within the white lines
Adaptive Cruise Control: allows the driver to set a desired speed and following distance from a vehicle detected ahead, which enables the use of cruise control in light, variable-speed traffic conditions
Traffic Sign Recognition: detects and automatically recognises road signs and displays the signs on the instrument binnacle's IID
Intelligent Speed Assistance: combines the automatic speed limit set by the driver with TSR to automatically adjust the vehicle speed to that indicated by the last road sign
Intelligent Adaptive Cruise Control: a pioneering technology that debuted on the 2015 Honda CR-V, i-ACC predicts and automatically reacts to other vehicles 'cutting-in' on multi-lane highways. It uses a camera and a radar to sense the position of other vehicles on the road and applies an algorithm - developed with exhaustive research on European roads - to predict the likelihood of vehicles in neighbouring lanes 'cutting-in'. This enables the new CR-V to adjust its speed automatically before other vehicles cut in, for a safe and comfortable journey.
Further safety technologies in the all-new CR-V include:
Blind Spot Information: uses radar technology to automatically detect vehicles in the driver's blind spot and alerts the driver via a warning symbol in the door mirror
Cross Traffic Monitor: uses rear side radar sensors to warn the driver of approaching vehicles when reversing
Multi-angle rear view camera: provides the driver with options for complete visibility and therefore peace-of-mind when reversing; a normal 130-degree view, a wide 180-degree view and a top-down view
Also fitted as standard are Vehicle Stability Assist (VSA(r)) with traction control, which enhances control capability while the vehicle is accelerating, braking, cornering, and Indirect Tyre Pressure Monitoring System (TPMS).
Video
Further information
Technical specifications
All technical information is preliminary and subject to change
All fuel consumption and CO2 figures are subject to final homologation
Body and chassis
Five-door SUV with unitary construction bodyshell and a choice of five or seven seats. A 1.5-litre VTEC TURBO engine with a choice of two transmissions, and a choice of front- or all-wheel drive.
Brakes and Suspension
MacPherson strut suspension and ventilated disc brakes on the front. Multi Link suspension and solid disc brakes on the rear.
Specifications
| SPECIFICATIONS | 1.5 litre VTEC TURBO (6MT) | 1.5 litre VTEC TURBO (CVT) |
| --- | --- | --- |
| Max. power (Engine) kW/PS | FWD: 127kW/173PS | - |
| | AWD: 127kW/173PS | AWD: 142kW/193PS |
| @ rpm | 5,600 rpm | 5,600 rpm |
| Max. torque (Engine) Nm | FWD: 220Nm | |
| | AWD: 220Nm | AWD: 243Nm |
| @ rpm | 1900-5000 rpm | 2000-5000 rpm |
| Top Speed km/h | FWD: 210km/h | |
| | AWD: 208km/h | AWD: 200km/h |
| Acceleration 0-100 km/h | FWD: 9.2-9.3s | |
| | AWD: 10.0s | AWD: 9.3-9.8s |
| Urban CO2 g/km | FWD: 169 g/km | |
| | AWD: 175g/km | AWD: 197 g/km |
| Extra Urban CO2 g/km | FWD: 128 g/km | |
| | AWD: 137g/km | AWD: 141 g/km |
| Combined CO2 g/km | FWD: 143 g/km | |
| | AWD: 151g/km | AWD: 162 g/km |
| Urban fuel economy l/100km (mpg) | FWD: 7.4l/100km (38.2mpg) | |
| | AWD: 7.6l/100km (37.16mpg) | AWD: 8.6l/100km (32.8mpg) |
| Extra Urban fuel economy l/100km (mpg) | FWD: 5.6l.100km (50.4mpg) | |
| | AWD: 6.0l/100km (37.16mpg) | AWD: 6.2l/100km (45.6mpg) |
| Combined fuel economy l/100km (mpg) | FWD: 6.3l/100km (44.8mpg) | |
| | AWD: 6.6l/100km (42.8mpg | AWD: 7.1l/100km (39.8mpg) |