Honda took Hat Trick at Honest John Awards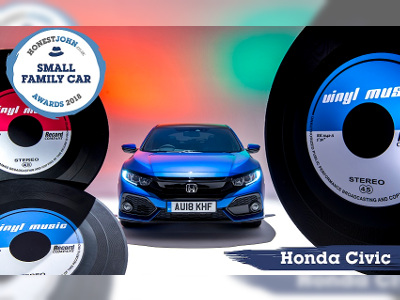 Earlier this year, Honda took three of the top awards in this year's Honest John Awards, with the Jazz, Civic and HR-V winning the gongs for small hatchback, small family car and small crossover of the year respectively.
Speaking at the time, Dan Harrison, managing editor at honestjohn.co.uk, commented:
The Honda Jazz is a smash hit with the readers of HonestJohn.co.uk and a worthy winner of the Small Hatchback of the Year award. Easy to drive, comfortable and practical, the Jazz is everything a small car should be, and our readers agree when we say it's simply one of the best small hatchbacks you can buy.
Speaking about the Honda Civic, Dan Harrison continued:
The Honda Civic is a great family car. Not only is it eye-catching, but it manages to blend dynamic handling with family-friendly comfort and practicality. Over the past 12 months the Civic's popularity has soared with the Honda winning praise it for value and refinement, which makes it a more than deserving winner of our Small Family Car of the Year award.
Harrison concluded:
The Honda HR-V is top of the class again, taking the Small Crossover of the Year award for the second successive year. Praised for its comfortable interior and wonderful ride quality, the HR-V is a true chart topper with no other small crossover coming close to matching its popularity with the audience of HonestJohn.co.uk.
Honda UK's head of cars, Phil Webb, added:
This is the third year in a row that Honda has picked up trophies at the Honest John awards and we are delighted that the Jazz, Civic and HR-V have triumphed this year; especially in an awards ceremony where it is simply down to the mass appeal of the cars and the number of people searching for them on the Honest John website.
Held on the evening of 2nd May in London, the honestjohn.co.uk awards come from the best experts of all: the website users. The awards are not decided by judges or a panel, instead recognising and rewarding the cars and vans that the users search for most on the site. Put simply, the reviews which create the most interest among honestjohn.co.uk users are the winners.