Fantastic turnout for Midnight Walk 2018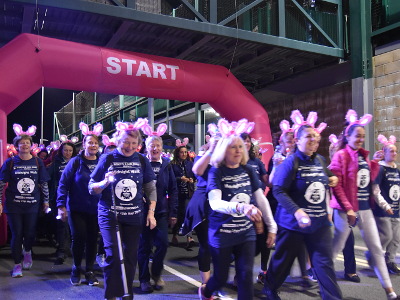 On Friday 28th September over 500 ladies took the streets around Woking to take part in the eight mile Midnight Walk 2018.
The atmosphere was amazing as ladies of all ages gathered at Woking Leisure Centre ready to take on the challenge, walking together to remember loved ones and to raise vital funds for the hospice. The room was filled with glow-in-the dark t-shirts and flashing bunny ears as the lights were dimmed to observe a minute's silence before the walk began at 10pm.
Trident Honda sponsored this year's event and they also sponsor the annual Dragon Boat Race that takes place at Goldsworth Park Lake just around the corner from Woking Hospice.
Richard Roberts, managing director of Trident Honda, comments:
We are delighted to be able to support Woking & Sam Beare Hospices. My father was cared for at the hospice and my family have witnessed first-hand the amazing care and support they provide. We are extremely lucky to have this service in our community.
Around 12.30am the first of the walkers started to arrive back at the leisure centre, despite the cold there were smiling faces, singing and hugging each other, bunny ears still flashing as they received their medals.
Jayne Cooper, CEO Woking & Sam Beare Hospices, said:
We would like to say a huge thank to everyone that took part in this year's Midnight Walk and to all our volunteers and marshalls. This is the 11th year we have run this event and we were delighted to see so many new faces joining us. We also had our own nurses from the wards and the community teams taking part walking together.
Last year Woking & Sam Beare Hospices cared for over 2000 patients, their families and carers across six Surrey boroughs we cannot provide this care without the support of our local community.