Honda triumphs with hat-trick in the annual MPG Marathon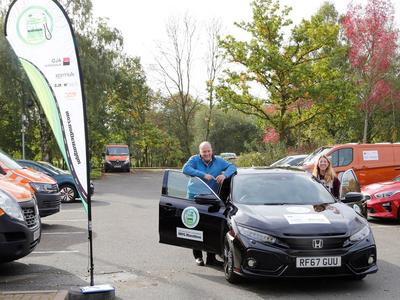 Honda triumphs with hat-trick in the annual MPG Marathon:
Civic diesel hatchback takes outright win AND best percentage improvement
16 year old Insight comes second overall, taking highest in the heritage category
Driver Paul Clifton claims second overall win at annual MPG Marathon
Team Honda has triumphed in the annual MPG Marathon taking home a hat-trick of titles. The Civic diesel hatchback claimed the overall winner's prize in this year's event as well as best percentage improvement on MPG, while the first generation 17 year old Honda Insight took second place overall and winner in the heritage category.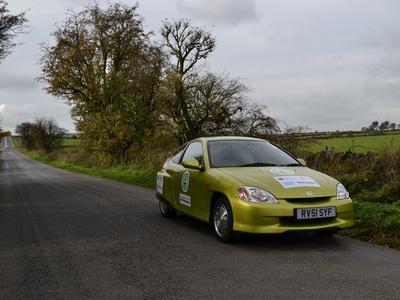 Held on Tuesday 16th and Wednesday 17th October, the two-day eco-driving challenge tests the real-world fuel economy of participating vehicles to the absolute maximum and saw the fuel-sipping 1.6 i-DTEC hatchback record an impressive overall MPG of 87.53 over 331 miles, an uplift of 8.5% on its officially-quoted combined NEDC figure of 80.7mpg, while the 2001 Insight achieved 84.8mpg over 360 miles.
Drivers were charged with working out the most economical route between a number of waypoints across Leicestershire, Lincolnshire, Shropshire, Northamptonshire and Warwickshire, starting and ending at the Marriott Forest of Arden Hotel near Coventry. Each team was on a strict time limit to complete each day, with stringent penalties incurred for every minute driven over the allotted driving time.
Taking shifts behind the wheel of the Honda Civic were BBC Transport Correspondent Paul Clifton and his daughter, Francoise Clifton. Paul comments:
Amazing result for the Civic diesel, and for me personally; I've won two years on the trot, and taken at least a class win seven years out of nine. It was a difficult and hugely entertaining event to do and Frankie was an absolutely outstanding co-driver. There's no secret trick to this; the aim is to travel in the highest gear at the most economical speed, using energy as efficiently as possible.
Francoise adds:
We probably could have achieved an even higher result, as the route was incredibly challenging; we went right up into the Peak District on day one, costing 20mpg on the average to that point, and were never able to recover from it. By going cross country and avoiding motorways, our route was by far the shortest of all the competitors, chosen because the car performed at its best on that type of journey.
Alex Grant, editor of Fleet World, which organises the event comments:
This year's event took place against a backdrop of rising fuel prices and the transition to a new, more realistic, economy test. So the cost of filling a tank, and the distance it can take you, is as high on the agenda as it was when the first MPG Marathon took place amid the fuel protests in 2000. Both cars performed exceptionally well despite tough conditions on both days, building on Honda's consistently strong results in recent years - for its petrol and diesel engines. It proves that Hondas old and new can still set high benchmarks for the competition, no matter what the journey throws your way.
For further information, please visit: