Honda announces proposal to cease production at its Swindon factory in 2021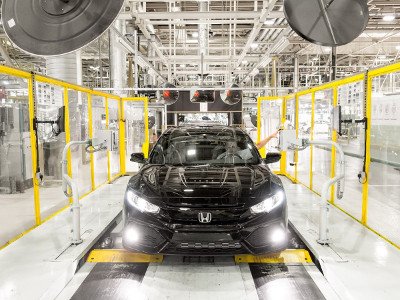 Honda of the UK Manufacturing (HUM) has today informed associates (employees) of the proposal to close its Swindon vehicle manufacturing plant, at the end of the current model's production life cycle, in 2021. The plant currently produces 150,000 cars per year, and employs circa 3,500 associates.
This proposal comes as Honda accelerates its commitment to electrified cars, in response to the unprecedented changes in the global automotive industry. The significant challenges of electrification will see Honda revise its global manufacturing operations, and focus activity in regions where it expects to have high production volumes.
Under this proposed restructure, HUM's current role as a global manufacturing hub may no longer be viable.
Consultation activity will begin today, and HUM will be working closely with its workforce, including the recognised trade union, Unite the Union, over the months ahead.
Katsushi Inoue, Chief Officer for European Regional Operations, Honda Motor Co., Ltd., and President, Honda Motor Europe said:
In light of the unprecedented changes that are affecting our industry, it is vital that we accelerate our electrification strategy and restructure our global operations accordingly. As a result, we have had to take this difficult decision to consult our workforce on how we might prepare our manufacturing network for the future. This has not been taken lightly and we deeply regret how unsettling today's announcement will be for our people.
Honda's European HQ will continue to be located in Bracknell in the UK.
Richard Roberts, Managing Director of Trident Honda, said:
Whilst a sad day for UK manufacturing, we understand the reasons for Honda's decision in the light of shifts in worldwide demand and the drive for electrification. Our thoughts are with all those involved directly and indirectly in Swindon.
History of Swindon
| Year | Event |
| --- | --- |
| 1985 | Honda of the UK Manufacturing is established |
| 1986 | Honda of the UK Manufacturing begins operations, conducting Pre-delivery Inspections on Honda models imported into the UK |
| 1989 | Engine Plant is opened and begins production |
| 1991 | The construction of Car Plant 1 begins |
| 1992 | Car Plant 1 opens and production of the Honda Accord begins |
| 1994 | Production of the Honda Civic begins |
| 2000 | Production of the Honda CR-V begins |
| 2001 | Car Plant 2 opens and production capacity increases to 250,000 cars per year |
| 2001 | Production of the Civic Type R begins |
| 2002 | Honda of the UK Manufacturing exports cars to North America for the first time |
| 2003 | Honda of the UK Manufacturing celebrates the production of its 1 millionth car |
| 2008 | Honda of the UK Manufacturing celebrates the production of its 2 millionth car |
| 2014 | The first public access Hydrogen filling station opens at Honda of the UK Manufacturing's site |
| 2015 | Honda of the UK Manufacturing announced as the global production hub for the 10th generation Civic hatchback |
| 2016 | Honda of the UK Manufacturing celebrates its 30th anniversary |
| 2016 | Production of the 10th generation Civic Hatchback begins |
| 2021 | Proposed closure of Swindon |