Honda CR-V wins 'Best Car Launched in the Last Year' in Auto Trader New Car Awards 2019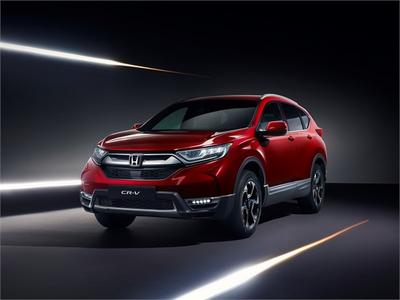 The latest-generation Honda CR-V continues to prove its credentials as the world's most popular1 SUV, winning the title of 'Best Car Launched Last Year' in the influential Auto Trader New Car Awards.
CR-V scored highest for comfort, running costs and safety in survey of more than 60,000 car owners
Comfort, convenience and connectivity features of the new CR-V make it more spacious and versatile than ever
Honda's first i-MMD advanced hybrid SUV in Europe, CR-V Hybrid plays a key role in meeting its aim of 100% electrification by 2025
The Auto Trader New Car Awards collated feedback from a survey of more than 60,000 car owners. The CR-V was ranked highest by real owners for comfort and cost of servicing, thanks to the option of a 5 year service plan for £599 (inc. VAT) on all brand new Honda models. High scores for durability and safety reflect the models recent 5-star Euro NCAP rating and comprehensive suite of Honda SENSING active safety technologies as standard.
Beating off competition from some big names, Honda CR-V owners were impressed by the quality of the interior, with its sleek design and contemporary, sophisticated trim. The in-car features and accessories were also cited, as the CR-V offers enhanced intuitive operation and full, seamless smartphone integration via both Apple CarPlay and Android Auto.
A spacious cabin with an increase of 50mm between the first- and second-row of seats, and class-leading forward visibility, also helped the CR-V to be ranked highly for comfort and quality.
Erin Baker, Auto Trader's Editorial Director, said:
The Honda CR-V has won best car launched in the last year because of the quality of its interior and the features and accessories that come with the car. Owners were impressed with the amount of space, seat position and visibility and it ranked top in areas including comfort, cost of servicing and repairs, durability and how safe it feels to drive.
Phil Webb, Head of Car at Honda UK, commented;
The Auto Trader New Car Awards are a real stamp of approval from people that live with the car day-in, day-out, and we're proud that the CR-V marks itself out as a true consumer champion. In the incredibly competitive SUV marketplace, this award is another reason for the new CR-V to stand out from its rivals. A big thank you to everyone who responded to the survey.
The CR-V's winning combination of comfort, convenience, connectivity is coupled with sophisticated technologies such as Honda's Hybrid Performance system intelligent Multi-Mode Drive technology (i-MMD).Comprising two electric motors, an Atkinson-cycle petrol engine and an innovative fixed-gear transmission, the CR-V Hybrid plays a key role in Honda's objective to achieve 100% electrification of its model line-up by 2025.
The new Honda CR-V is available from £25,995.00 OTR (inc. VAT) for the 1.5 VTEC Turbo S 2WD Manual, and £29,105 OTR (inc. VAT) for the 2.0 i-MMD Hybrid S 2WD.
To find out more about the Honda CR-V, visit:
---
Source: JATO Dynamics (Sales period Jan. 2013 - Dec. 2017). * Markets include: EU + EFTA, NAFTA, China, Japan, Brazil, Russia, India, Indonesia, Australia, Argentina, South Africa, South Korea, Thailand, Vietnam ↩