Richard Roberts, Managing Director of Trident Honda, wins 2019 NFDA Recognition Award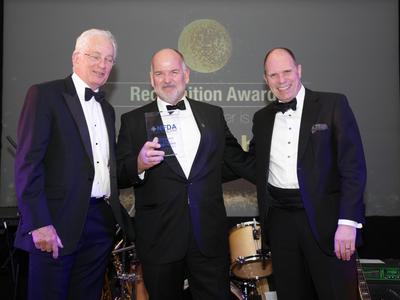 A proud day for Trident Honda as our Managing Director, Richard Roberts, won the prestigious National Franchised Dealers Association (NFDA) Recognition Award for 2019.
The NFDA Spring Ball Awards 2019 took place over the weekend at The Grove Resort in Hertfordshire. The night was compèred by TV presenter Mark Durden-Smith and the award was presented by legendary cricketer David Gower OBE, seen here on stage with Richard Roberts and Mark Squires, Chairman of the NFDA.
In addition to his role as managing director of Trident Honda, Richard Roberts is Chair of the NFDA Southern Committee, Chair of the NFDA National Aftersales Working Group, as well as sitting on the NFDA Used Car Group and the NFDA Brexit Working Group.
Richard Roberts writes:
As a dealer, I am well aware of the importance of having a trade association like the NFDA representing dealer interests in the part we play in the automotive retail industry. In turn, dealer input is crucial to set the direction of NFDA's activity. I am proud to have won the award and I will ensure that I continue to support our great industry.
Sue Robinson, Director of the NFDA, said:
The NFDA Spring Ball provided all our guests with an ideal opportunity to enjoy an evening of fun with retailers and key industry personalities. We congratulate all the award winners on their achievements and thank all those who attended and participated to raise £1,905 for Ben, the automotive charity. We look forward to celebrating automotive excellence with you, again, next year.