Civic Type R concept double at SMMT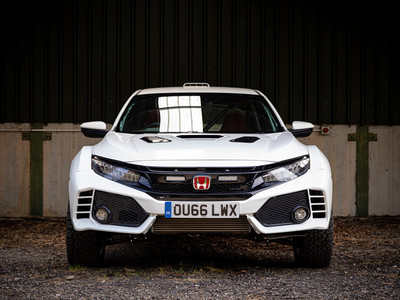 Team Dynamics Motorsport and Ralph Hosier Engineering unveiled two very different versions of the Honda Civic Type R at the 2019 SMMT Test Day. Held at Millbrook Proving Ground in Bedfordshire, the annual event sees over 300 journalists test drive a range of manufacturer cars.
Team Dynamics Motorsport
The Team Dynamics Motorsport version of the Civic Type R has been conceived by the Droitwich-based motorsport team to showcase the potential of the Civic Type R. The multi-championship winning team is the driving force behind the Halfords Yuasa Racing team, otherwise known as the Honda British Touring Car Championship works team.
Remaining road-legal, the car has a comprehensive selection of 'off-the-shelf' and bespoke modifications that have been carefully selected by Team Dynamics to heighten all aspects of the car. The changes to the ECU (Superchips), induction system (ITG), intercooler (PWR), sports cat (Dream) and exhaust (Scorpion) have yielded a 25% gain in performance; taking power to 400BHP and 500Nm. Helping control this increase are a number of modifications that embody both performance and safety, such as Goodridge stainless performance braided brake hoses, Eibach Pro performance springs, adjustable anti-roll bars and rear camber arms, and Dunlop DZ03G track day tyres wrapped around Team Dynamics' 19" Pro-Race lightweight competition-derived wheels.
James Rodgers, team manager at Team Dynamics, comments:
We're familiar with the race-winning FK8, however we wanted to showcase what can be extracted from the car with just a few light modifications. The standard car, which we call a race car for the road, is so competent that it really doesn't take much to take it to the next level.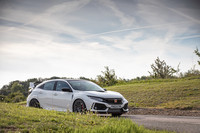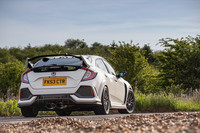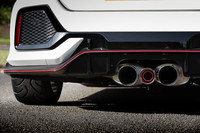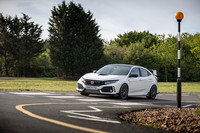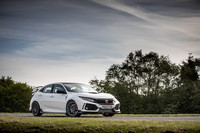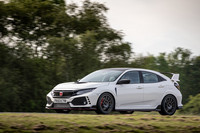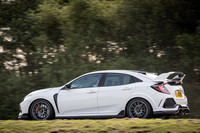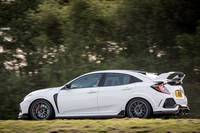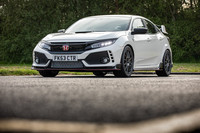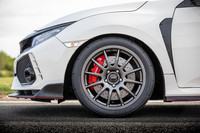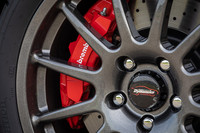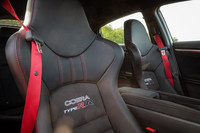 Ralph Hosier Engineering
The second unveil is a unique project by Ralph Hosier Engineering that has given the Civic Type R credentials like never before. Raised over three inches, and equipped with huge mud-plugging tyres, this version of the Civic Type R takes huge influence from Rally Raid, Overland and Safari models from the world of rally and adventure holidaying.
The complex anti-torque-steer Dual-Axis strut arrangement has been retained to allow the fundamental design and purpose of the Civic Type R's suspension to work as the factory intended. At the rear, a bespoke trailing arm mounting and modified transverse links have lifted the car over three inches higher than standard. Transferring this to the tarmac, or mud, are 255/55/18 BF Goodrich tyres wrapped around rally-derived, lightweight wheels. Finished in iconic Championship White the concept subtly accentuates silhouette to create a familiar but different feel to the car.
Ralph Hosier, owner of the eponymous engineering business, added:
These two wildly different interpretations of the Civic Type R showcase the standard car's attributes, but also reflect the advanced, sporty and playful nature of the entire Civic range. We have also had a fantastic opportunity to demonstrate what can be done with a road car.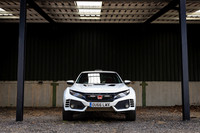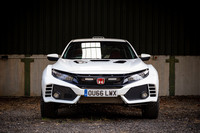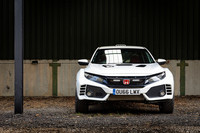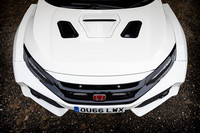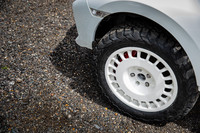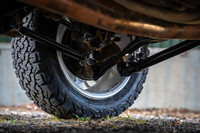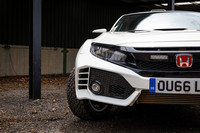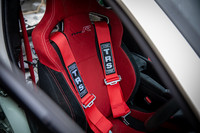 Further information
After approaches from both firms last year, Honda UK provided pre-production versions of the Swindon-built Civic Type R for both to create their version of what a Civic Type R could be. And while there are no plans for either to be put in to production, both Team Dynamics and Ralph Hosier Engineering have said they will create one-off versions for discerning customers.
Surprisingly, both versions carry over the same powertrain and gearbox from the road going car as well as the extensive suite of safety products that are standard to the entire Honda range of passenger cars, demonstrating both the firm's and Honda's uncompromising commitment to safety.
Available for under £300 a month, the standard road-going Civic Type R has a top speed of 169mph and can do the 0-62mph sprint in just 5.7 seconds. The power comes from the 2.0-litre VTEC TURBO engine that has been optimised and refined to produce 320 PS with peak torque of 400 Nm.