Sixth annual Dragon Boat Race was a roaring success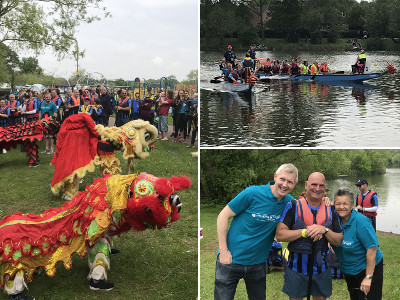 Date: 11/06/2019
Woking & Sam Beare Hospices' sixth annual Dragon Boat Races and Family Fun Day took place on Sunday 20 May in fantastic sunshine, with 22 rowing teams battling it out on Goldsworth Park Lake in dragon-headed boats.
Sponsored by Trident Honda, the event has raised more than £30,400 gross so far, with further sponsorship still coming in.
Natta were crowned the winners, with 2018 winners Seymours and Team KC - the friends and family of Kris Cook, of whom the event is held in memory - as worthy runners-up. The Titanic Tigers team won the fancy dress prize thanks to their amazing tiger costumes and face paints.
Funds raised through the event will go towards the £8 million the charity has to raise each year towards delivering the £9.6 million of free end-of-life care it gives to 2,000 people across North West Surrey, and their families and carers.
The charity's Events Manager Rachelle Barnett said:
Huge thanks to Trident Honda for their amazing ongoing support and sponsorship of both the Dragon Boat Races and also our forthcoming ladies' Midnight Walk on Friday 21 June. It was a super event, thanks to all our wonderful rowing teams showing great sportsmanship throughout the day and to our many visitors who came along to enjoy the races and activities on the banks. We had such a brilliant day we're already planning our 2020 event!
Richard Roberts, Managing Director of Trident Honda, said:
It seems that every year I say that this year was the best, but it has never been truer, with an amazing 22 teams taking part! The weather played its part in making the day a memorable one, but huge thanks are due to the Woking & Sam Beare Hospices for their fantastic organisation this year.
Gallery