Trident Honda is principal sponsor of the Woking Open Tournament 2019
Trident Honda is delighted to announce that they have agreed to sponsor the Woking Open Tournament for the next three years. The Woking Open Tournament is Surrey's premier Grade 3 Summer Open Tennis Tournament, and is being held throughout next week -- from Sunday 21st through to Saturday 27th July.
The Woking Open Tournament is now in its 92nd year and is run by the Woking Lawn Tennis & Croquet Club. This regional level tournament is run over one week in the Summer holidays, with all age groups from U8 up to Mens/Ladies. The event regularly attracts over 250 players, with many top level national players competing for the coveted titles.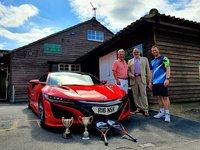 Richard Roberts, Managing Director of Trident Honda, explains the decision.
We are delighted to be sponsoring the 92nd Woking Open this year. When visiting the club I was hugely impressed, not only by the quality of the facilities, but also by the enormous enthusiasm of the team. The youth facilities were particularly impressive with smaller courts suitable for younger players.
About Woking Lawn Tennis & Croquet Club
The Woking Lawn Tennis & Croquet Club was founded in 1905, to help make Hook Heath in Woking more attractive to developers and potential residents. From an initial 158 members in 1905, today the club has close to 1,000 members.