Woking Lions distribute proceeds from popular Martian race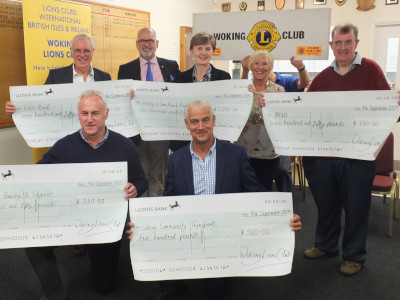 Date: 18/09/2019
Celebrating their fourth successful Martian Race, held at the end of June and sponsored by Trident Honda, Woking Lions hosted a presentation evening at Horsell Bowling Club on Wednesday 4 September to thank all those who supported the event and to present cheques to the beneficiaries.
The Martian Race, derived from H.G. Well's novel which featured Horsell Common in 'War of the Worlds', was sponsored this year by Trident Honda in Ottershaw. With 610 people registered to run either 5k, 10km or half marathon distances, the event raised almost £9,000 for good causes and was attended by the Mayor of Woking, Cllr Beryl Hunwicks who, together with Richard Roberts, Managing Director of Trident Honda, handed out the cheques.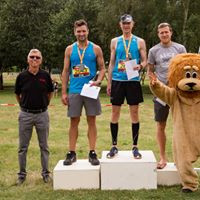 One thousand pounds was received by the CEO of Woking and Sam Beare Hospices, Marion Imrie and £750 by David Annand of Transform Housing and Support's local branch. Tony Bennett CEO was given £750 for Mind's Woking office and the same amount was presented to Steve Thomas CEO of 'Let's Read'. Brenda Infante and Alison Keeley received £250 on behalf of Linkable and £1,000 (£250 each) will be distributed to four local primary schools at a later date. Steve Morris of Woking Community Transport, which provides transport for the Woking Lions' lunch for those on their own on Christmas Day, received a cheque for £500. Horsell Guides and Brownies, Horsell First and Woking District Scouts were given £250 each in appreciation of their help in providing the tens and marquees.
Richard Roberts, Managing Director of Trident Honda, writes:
Well done to all those involved in raising such an amazing amount for local causes. It has an absolute pleasure to be involved in an event that is so local to us, and which over its relatively short life has generated so much positive community spirit.
On behalf of Woking Lions, President Jackie Taylor thanked Fairoaks Airfield and Chobham Business for parking facilities, McLaren for the use of their land to set up the Run Village and Horsell Common Preservation Society without whose help the race could never have taken place. Thanks were also given to Nigel Longley of Horsell Scouts who provided the medical equipment in the Run Village and Dr Verma of Heathcott Medical Practice for his invaluable presence. The Lions are also grateful to Boz fruiterers of Horsell who supplied bananas and satsumas for all runners as well as the Horsell Co-op and Waitrose Store in Goldsworth Park which supplied 'goody bags' for volunteers who marshalled the course.