Honda Civic completes hat-trick at Company Car Today's CCT100 Awards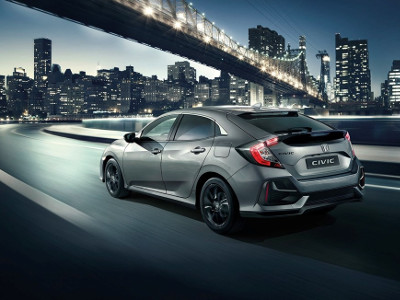 Honda's Civic rose to the top again at the Company Car Today's CCT100 Awards, taking Lower Medium Car of the Year for the third year running. Chosen from a pool of 100 cars, it was named amongst the twenty award-winners that represent the very best company car choices for business fleets across various automotive segments.
Edging out the likes of the BMW 1-Series, Mercedes A-Class and Volvo V40, the Civic's victory is no mean feat. In eclipsing the competition, the Civic attained a higher overall score across a range of metrics - such as performance, residual value and insurance cost - by which the judging panel assessed the contenders' company car credentials.
While lauded for its all-round ability, particular praise was withheld for the 10th generation Civic's chassis, which strikes the ideal balance between dynamism and comfort, according to the judging panel.
Company Car Today Editor Paul Barker said:
A hat-trick of Company Car Today CCT100 Lower Medium Car of the Year awards shows what a great company car the Honda Civic is. Its space, practicality, great engines, styling combine with intelligent pricing and good equipment levels to make for a car that should be on every fleet consideration list.
Available with three engines, two petrol and one diesel, the Civic can also be had with various transmissions. There are multiple trim levels to choose from as well, allowing company car operators to find the ideal balance of price and specification, ergo there's no shortage of choice, with prices starting from £19,470 for 2020 models.
The CCT100 is Company Car Today's definitive list of the 100 cars that can fulfil any business car requirement. A shortlist containing the top five cars in each category is assessed across 12 key factors that make an excellent company car, including emissions, price, running costs, company car tax, practicality, desirability and the driving experience.