Catalytic converter theft prevention advice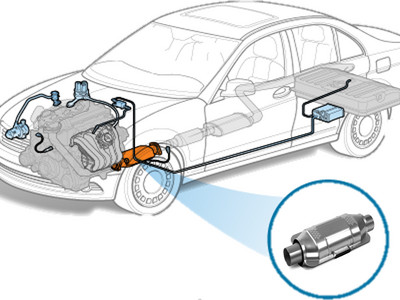 We have had several customers who have had their car's catalytic converter stolen recently and so we have put together the following advice for our customers.
Prevention
Park your car in a locked garage where possible, or in a well-lit and well-populated area
Park close to fences, walls or kerb, with your bonnet as close as possible, as the catalytic converter is positioned at the front of your vehicle
Avoid parking half on the pavement and half on the road, as this makes it easier to access
Consider fitting a CCTV camera or a video doorbell that overlooks your car, or front and rear-facing dashcams with movement sensors
Consider adding a tilt sensor to your alarm system, that would activate in the event of your vehicle being jacked up
It may be possible to have the bolts welded, or a serial number etched onto it; although these are not services that we currently provide
If you see someone acting suspiciously under a vehicle, obtain as much information as possible, including any vehicle registrations, and report it to the police.
If your car sounds much noisier than usual, then this could simply be a blown-exhaust, or it may be a stolen catalytic converter, please contact us to investigate:
Why is this happening?
The catalytic converter contains a ceramic honeycomb structure, providing a large surface area across which the exhaust gases flow. Precious metals -- platinum, palladium and rhodium are coated onto this structure to work as catalysts.