2021 Honda Civic delivers sleek styling and premium interior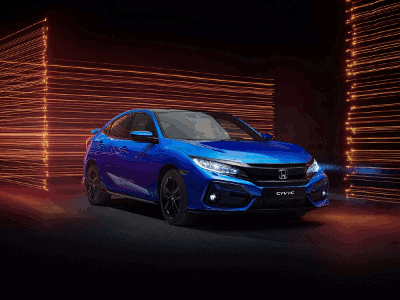 The 2021 Honda Civic includes a range of styling upgrades and interior enhancements first introduced to the range in 2020.
The new elegant, symmetrical lower front grille and smoothed surfaces around the fog lights are complemented by redesigned LED daytime running lights that follow the dynamic lines of the sleek new styling blades. The textured interior panels deliver a sophisticated, premium ambience, whilst Honda's intuitive connected infotainment system connects the driver with the car seamlessly and incorporates Apple CarPlay and Android Auto.
The new Sport Line model mirrors the stealthy appearance of the Type R Sport Line, adding front and side skirts, rear diffuser and a subtle rear spoiler.
The Civic continues to benefit from an industry-leading suite of safety technologies that helped the model earn top ratings in Euro NCAP tests, including Honda SENSING active safety and driver assist technologies on all grades.
Sleek, aerodynamic exterior design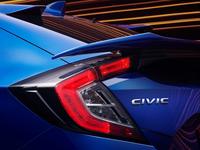 The 2021 Civic retains its purposeful silhouette and muscular stance. A simple grille beam configuration and air-intake design gives the front profile a clean, aerodynamic look. The Civic's body balances class-leading low aerodynamics with high-speed stability.
The design is further enhanced on the Sport Line with the addition of front and side skirts, rear diffuser and a subtle rear spoiler. The purposeful yet understated image mirrors the high-performance Type R Sport Line -- a new addition to the Type R line-up in 2020, which retains the sporting pedigree and outstanding driving dynamics of the Civic Type R GT, but with more discreet aerodynamic styling.
Advanced chassis dynamics deliver class-best handling and ride comfort
The 2021 Civic continues to offer an engaging and fun driving experience, with class-best handling and ride comfort, and exceptional interior refinement.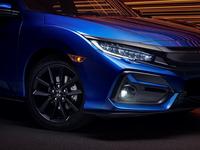 Its design, engineering and manufacturing innovations contribute to an increase in the body's rigidity, which in turn provides the opportunity to tune the suspension for superior ride and handling. The sophisticated MacPherson strut suspension system and multi-link rear suspension, combined with a low centre of gravity and rigid body, make the Civic one of the most engaging cars in its class, whilst retaining exemplary ride comfort.
Honda's Agile Handling Assist (AHA) electronic stability system is tuned for European road conditions and driving styles. It provides subtle, discreet assistance for added safety, and smoother, more predictable behaviour at low and high speeds.
An inherently stiff body reduces the transfer of disturbances and vibration, whilst engineering and exterior design deliver class-leading interior quietness and refinement through optimal noise, vibration and harshness management. An acoustic windscreen, triple-layer seals, and extensive sound insulation, all contributes to a quieter, more relaxing interior with fewer distractions for the driver, allowing them to focus on the engaging experience behind the wheel.
Highly-efficient petrol engines deliver outstanding efficiency and refinement
The 2021 Civic retains a range of highly-efficient and powerful engines, with a choice of CVT or six-speed manual transmissions and 1.0-litre three-cylinder and 1.5-litre four-cylinder petrol turbocharged engines.
The 1.0-litre produces an impressive 126 PS at 5,500 rpm and 200 Nm of torque, with CO2 emissions from 128 g/km (WLTP), for the six-speed manual model. The CVT produces 180 Nm of torque and 135 g/km (WLTP). Fuel economy on the combined cycle ranges from 5.7l/100 km (WLTP) for the six-speed manual and from 6.0/100 km (WLTP) for CVT.
The 1.5-litre VTEC Turbo petrol unit produces an impressive 182 PS at 5,500 rpm and 240 Nm of torque between 1,900-5,000 rpm, with CO2 emissions of 139 g/km (WLTP combined cycle) and WLTP combined fuel economy of 6.1l/100 km for the six-speed manual model. With the CVT option, 182 PS (at 6,000 rpm) and 220 Nm of torque is delivered between 1,700 rpm and 5,500 rpm. Official CO2 emissions are 151 g/km (WLTP) for the CVT model, with combined fuel economy of 6.7l/100 km (WLTP).
With direct injection, a compact, low-inertia mono-scroll turbocharger, electronic wastegate, Honda's Intelligent-Variable Timing and Lift Electronic Control (i-VTEC) and Dual-Variable Timing Control (Dual-VTC), the turbocharged Civic powerplants were designed to develop the power and torque of much larger engines. As a result, the pair of VTEC Turbo engines achieve engaging driveability and soulful performance - with high specific outputs of maximum torque and power - while also delivering Euro 6 compliant environmental performance that is among the class leaders.
Idle Stop-Start
Honda's Idle Stop-Start system is fitted across all manual models in the Civic range as standard. The system reduces overall fuel consumption and helps to deliver CO2 emissions from just 133 g/km (Civic four-door) and from 128g/km (Civic Hatchback), when equipped with the six-speed manual transmission (under WLTP test conditions).
Efficient fuel injection system and engine air flow
In VTEC engines, direct injection enables increased torque across the engine's full operating range, combined with enhanced fuel efficiency. The system features a compact, high-pressure, direct injection pump that allows for high fuel flow, while variable pressure control optimises injector operation. A multi-hole injector delivers fuel directly into each cylinder rather than to the intake port, as in conventional port fuel injection designs, allowing for more efficient combustion.
Both of the Civic's petrol engines feature friction-reducing technologies designed to improve engine efficiency. The outer skirts of the lightweight aluminium pistons feature a low-friction coating applied in a unique pattern application. The result is reduced overall friction as the pistons move within the cylinder bores.
Drive-by-wire throttle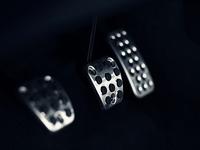 A drive-by-wire throttle system is used in place of a conventional throttle cable, with intelligent electronics that link the accelerator pedal to a throttle valve inside the throttle body. Honda's throttle system evaluates the current driving conditions by monitoring throttle pedal position, throttle valve position, engine speed and road speed. This information is used to define the throttle control sensitivity that gives the Civic's throttle pedal a predictable and responsive feel for a more engaging driving experience.
Six-speed manual transmission
The latest six-speed manual transmission is specifically designed to maximise the effectiveness of power delivery to the wheels from the range of characterful, sporty engines.
A smooth and precise shift feel results from an enhanced synchroniser ring in the synchromesh gear of the six-speed manual transmission. A constant-mesh helical reverse gear mechanism significantly reduces noise, and the dual mass flywheel also delivers further NVH benefits.
Wide-ranging gear ratios help achieve greater environmental efficiency when cruising at highway speeds without compromising acceleration response and driver engagement in more spirited driving situations.
'Seven-speed' automatic transmission
Developed by Honda's R&D Centre in Frankfurt, the new CVT automatic transmission achieves dynamic, exciting driveability, using a turbine twin damper torque converter. Compared to traditional CVT systems which exhibit a 'rubber band' feel under acceleration, the new unit delivers a more direct power delivery, simulating seven speeds through the rev range. Steering wheel-mounted gear shift paddles offer the driver a further opportunity to take control both in automatic and in 'manual' mode.
Honda's new CVT features two additional enhancements:
'Early Downshift During Braking' (EDDB) uses the engine to assist the driver during braking
'Fast Off' measures how quickly the driver releases the accelerator pedal and maintains engine revs to offer engine braking and prepare for acceleration
Refined interior materials and advanced infotainment system deliver premium feel and usability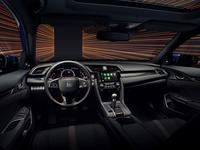 The contemporary exterior design continues inside, with advanced technologies and high quality materials that naturally work together to enhance the sense of space and comfort. Quality fabrics including updated trim materials strengthen the cabin's premium ambience, including a one-piece soft-touch instrument panel with moulded stitching, which was also added when the interior was refreshed in 2020.
The 2021 Civic continues the model's reputation for providing class-leading practicality and unrivalled passenger and cargo space. A light, airy feeling is accomplished with a low bonnet, narrow A-pillars, and the large tilt-and-slide panoramic sunroof (available on higher grade models).
Ergonomically-optimised front seats are designed to provide high levels of comfort, with the driver's seat in top grade models benefiting from an electric eight-way adjustable seat to ensure the optimal seating position.
On the Civic Sport Line, the interior is enhanced with red stitching detail on the seats, steering wheel, gear shift boot and door panels, while drilled aluminium pedals reflect Honda's illustrious sporting heritage.
Technology console and Honda CONNECT offers enhanced, intuitive infotainment
The 2021 Civic integrates the Honda CONNECT infotainment and connectivity system, which offers enhanced intuitive operation and incorporates DAB radio and full smartphone integration via both Apple CarPlay® and Android Auto. The intuitive infotainment system, first introduced in 2020, increases the cabin's premium feel and usability. Honda has improved its usability by adding physical buttons and dials for the infotainment and climate controls.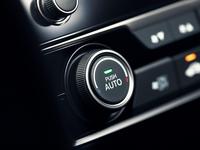 Honda CONNECT gives rapid access to internet-based services such as web browsing, real-time traffic information, news and weather, social media, and internet music stations. It features pre-installed apps, with others available for download from the Honda App Centre. The touchscreen displays vehicle information - such as trip information and fuel economy - and images from the rear multi-view parking camera.
Top specification Civic models also include Garmin Navigation, with pre-loaded maps, photo-real junction views, lane guidance, real-time traffic avoidance, 3D building and terrain views, and ECO Routing. Free map updates will be provided for five years, a benefit unique to Honda.
Options for the available audio configuration include an eight-speaker 180-watt output system, or high-power eleven speaker 467-watt premium audio system.
In front of the gear lever is a two-tier storage tray, for personal electronic devices, with integrated wireless smartphone charging pad available on some grades. A second tray, behind the centre console, provides a more discreet storage area and access to the HDMI and USB ports, as well as the 12v power socket.
In front of the driver, a seven-inch colour Driver Information Interface makes up the largest central section of the instrument binnacle. The driver can scroll and select information to display via thumbpad controls on the left spoke of the steering wheel. Also on the left spoke of the steering wheel are the integrated Bluetooth®3 HandsFreeLink® telephone controls. A second thumbpad on the right spoke of the steering wheel operates the Adaptive Cruise Control and Lane Keep Assist system settings.
Standard Honda SENSING across the range makes Civic one of the safest cars in its class
In line with Honda's 'Safety for Everyone' philosophy, the 2021 Civic continues to achieve industry-leading safety performance. In addition to class-leading body rigidity and stiffness, the Civic offers a comprehensive suite of Honda SENSING active safety technologies included across all grades, and helped the Civic to achieve top ratings in Euro NCAP safety tests.
Honda SENSING uses a combination of radar and camera information, plus a host of high-tech sensors, to warn and assist the driver in potentially dangerous scenarios.
Collision Mitigation Braking System: helps to bring the car to a stop if the system determines that a collision with a vehicle detected in front is unavoidable.
Forward Collision Warning: scans the road ahead to warn drivers of a potential collision, and provides visual and audible alerts to prompt the driver to take corrective actions to avoid a crash
Lane Departure Warning: detects if the car is straying out of its current lane, and alerts the driver to make a correction
Road Departure Mitigation: uses the windscreen-mounted camera to detect whether the car is veering out of its lane, and applies subtle corrections to keep the vehicle in its lane
Lane Keeping Assist System: detects road markings and makes small steering adjustments to keep the vehicle within the white lines
Adaptive Cruise Control: allows the driver to set a desired speed and following distance from a vehicle detected ahead
Traffic Sign Recognition: detects and automatically recognises road signs and displays the signs on the instrument binnacle's IID
Intelligent Speed Assistance: combines the automatic speed limit set by the driver with TSR to automatically adjust the vehicle speed to that indicated by the last road sign
Intelligent Adaptive Cruise Control: predicts and automatically reacts to other vehicles 'cutting-in' on multi-lane roads
Further safety technologies available on higher grade Civics include:
Blind Spot Information: uses radar to automatically detect vehicles in the driver's blind spot and alerts the driver via a warning symbol in the door mirror
Cross Traffic Monitor: uses rear side radar sensors to warn the driver of approaching vehicles when reversing
Multi-angle rear view camera: provides the driver with options for complete visibility and therefore peace-of-mind when reversing; a normal 130 degree view, a wide 180 degree view and a top-down view
Also fitted as standard are Vehicle Stability Assist (VSA®) with traction control, which enhances control capability while the vehicle is accelerating, braking and cornering; and Indirect Tyre Pressure Monitoring System (TPMS).
Generous equipment as standard
The 2021 Civic is available with a wide variety of accessory packs and individual accessories allowing owners to enhance or adapt their car to suit their personal requirements and tastes. All variants are fitted as standard with the Honda SENSING suite of active safety technologies, full LED headlight clusters, and redesigned LED daytime running lights.
All five-door Civic models are supported by Brake Hold when temporarily stopped - for example, at traffic lights or busy junctions - as well as smart entry and start and an auto-dimming rear-view mirror on Executive, Sport Line and Sport Plus grades.
1.0-litre VTEC Turbo five-door
The 1.0-litre VTEC Turbo five-door model is available in six grades: S, Comfort, Comfort Sport Line, Elegance, Executive and Executive Sport Line.
The entry-level S grade is generously equipped and includes automatic headlights and adaptive cruise control.
Comfort and Comfort Sport Line grades add heated front seats, heated and electrically adjustable door mirrors, an eight-speaker audio system, 16-inch alloy wheels and air conditioning. Comfort Sport Line has further upgrades, including ambient roof lighting, 17-inch alloys, leather steering wheel and gear shift knob, and the Honda CONNECT infotainment suite with 7-inch touchscreen.
Elegance models also benefit from 17-inch alloys and the Honda CONNECT infotainment suite, but with the addition of Garmin Navigation, front and rear parking sensors, electric folding door mirrors, rear parking camera and dual-zone climate control.
Top-grade Executive and Executive Sport Line models feature smart keyless entry and start, power tilt-and-slide panoramic sunroof, premium audio system with 11 speakers (467 watts output) including front tweeter and centre speaker, and the Adaptive Damper System.
Sport Line models
The Sport Line model was added to the 2020 Civic line-up to provide customers with a unique blend of sporty design, value and efficiency. The model is similarly equipped to the Comfort grade model, with the option of upgrading to the Executive specification. All Sport Line models provide the added benefit of stand-out styling including a rear diffuser, tailgate spoiler, 17-inch black alloy wheels and privacy glass. Sport Line models also feature red meter illumination, a leather steering wheel and the Honda CONNECT 7-inch touchscreen infotainment system.
1.5-litre VTEC Turbo five-door
The 1.5-litre VTEC Turbo five-door model is offered only in Sport Plus grade.
Sport Plus models are based on the Executive grade models, but with the addition of 17-inch alloys, twin centre exhaust outlets and a sports body kit that includes a chin spoiler, rear bumper spats and side garnishes. Front and rear parking sensors, a rear parking camera, the Honda CONNECT infotainment suite with Garmin Navigation, wireless smartphone charger and dual zone climate control are also included on this grade.
Comprehensive accessories and option packs
Styling packs
To further enhance the stand-out visual impact of the Civic five-door models, customers have a choice of two optional exterior styling finishes: Bronze Line and Red Line. The Bronze Line and Red Line add a front skirt, mirror caps, side skirts, rear diffuser and front and rear bumper decorations in either Infinite Bronze or Rally Red.
Accessory packs
Three option packs are available across all models to further enhance the functional features of the Civic:
Illumination Pack: a blue front ambient footlight, illuminated door sill trims and blue console and blue lining illumination
Cargo Pack: a boot tray with divider, lipped rubber mats and protective boot sill decorations
Protection Pack: a boot step protector for the rear bumper when loading and unloading, tough door sill trims and durable side body protection
Choice of stylish alloy wheels
16-inch alloy wheels are available for the entry-level model, while mid and top-grade models can be styled with a choice of 17-inch alloy wheels, including a sporty 'Shark Grey' design for customers wanting a more dramatic look.
The Sport Line also receives 17-inch alloy wheels, but with a piano black finish. In addition there are also two sets of 18-inch alloy wheels available to complement the Bronze Line and Red Line styling packs.
Honda Civic Sport Line Delivers Type R-inspired Styling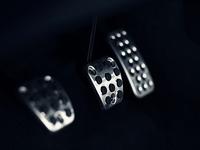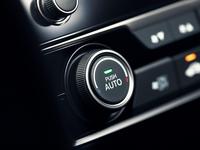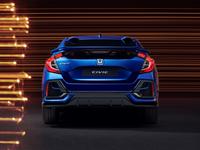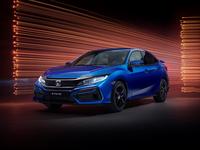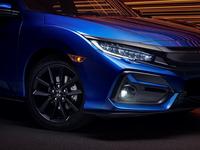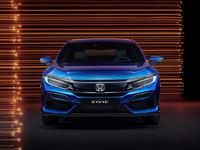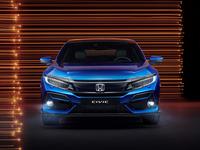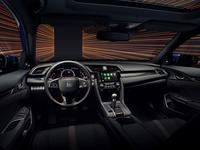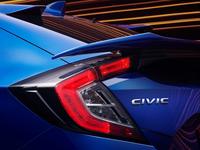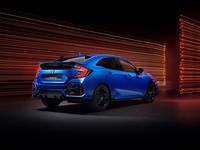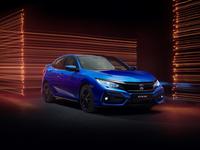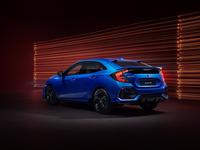 Further information