Trident Honda have a wheelie good time raising money on the Downslink Challenge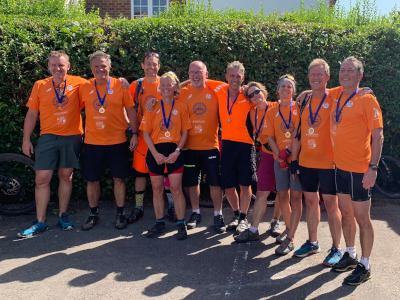 After six successful years, Trident Honda is once again lending its support to the Downslink Challenge in 2021.
The event, where entrants cycle from Knaphill to Brighton, is back and bigger than ever before. Kicking off earlier this month on the 5th July, the challenge will continue throughout the summer, culminating with the main event on 4th September.
With this year promising to be the toughest yet, participants can pedal fifty or one hundred miles along the old Downslink railway and this year marks the inaugural 'Century' ride, which offers riders a huge 128 miles of cycling.
Now in its sixth year, the event is proving anything but tiresome. Last year was its most successful year to date, with over £26,000 collected for local charities despite being the first year of the Covid pandemic and Organisers are aiming to smash that target this year. With funds being split equally between two charities, both Woking & Sam Beare Hospice and Little Roo Neonatal Fund at Ashford and St Peter's Hospitals will benefit from the event.
Having sponsored the challenge every year since its inception, Trident Honda in Ottershaw are once again supporting the event. The dealership team even tackled the fifty mile 'challenge' ride last weekend, led by Managing Director, Richard Roberts, who added:
We've been delighted to support the Downslink Challenge for the past six years, and this year we're raising money for two causes that are very close to our hearts.

As a proud trustee of Woking & Sam Beare Hospice, we'd love for you to get involved too, and help us make this year our best one yet. The event is the perfect opportunity for people across the region to get active, and our team had a brilliant time getting out and about in the glorious weather. With the main event coming up on 4th September, everyone at Trident Honda would encourage you to dust off your bike or sponsor a loved one. Every little bit helps and it will go a long way for two fantastic causes.
In addition to the main event on the 4th September, the Downslink Challenge will culminate with Woking Football Club taking on the course in October. Featuring new owner John Katz, Manager Alan Dowson, Captain Josh Casey as well as past players Lloyd Wye and Scott Steele, it promises to be the ultimate send-off for a summer of cycling fun.
Further information about the event can be found at https://saddlesore.bike/, including all entry and sponsorship materials.