Trident Honda extends its support for the Weybridge Vandals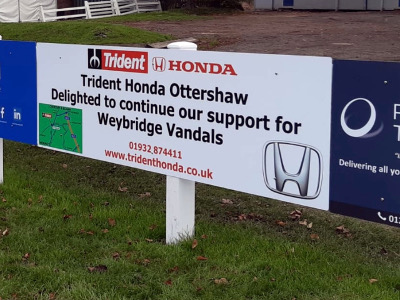 After 16 years of sponsoring the Weybridge Vandals Rugby Club, this year sees Trident Honda extend its sponsorship to include a large pitch-side banner (see photo).
With 2021 seeing Honda become the Performance Partner and Official Vehicle of England Rugby in a long-term, multi-year deal, and with England's Pennyhill Park training base renamed the 'Honda England Rugby Performance Centre' as part of the arrangement, we saw it as time to step up our support of the Weybridge Vandals.
Managing Director of Trident Honda, Richard Roberts, says:
We are very proud to support the Weybridge Vandals, and are delighted to continue our long-standing grass roots relationship with England Rugby! We wish them all the very best for the 2021-22 season.
About the Weybridge Vandals RFC
'The Vandals' can be traced back to the London School of Economics in the early 1930's, when Frederick Monkhouse and John Scurr, both forwards in the college first team, issued an invitation addressed to all 'rugger' men throughout London University to attend a meeting at the Ship Tavern in Gate St, Holborn on 18 March 1932.
Weybridge Vandals caters for all age groups from Mini rugby at Under 5, through to Junior rugby up to Under 19, and three senior sides, including a 1st team playing at a respectable level within the London South West 3 league, with good coverage of games in the local press, and a veterans' side for those that just don't know when to hang up their boots!
The club is always pleased to see new faces, whether as players, spectators, or volunteers who would like to get involved with the Club in some way.