2022 Dragon Boat Race was a fantastic day despite wet weather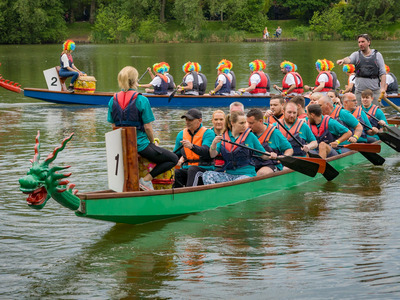 On Sunday 15th May the Woking & Sam Beare Hospice Dragon Boat Races and Family Fun Day took place at Goldsworth Park Lake. Trident Honda is proud to be the main sponsor for the event.
Last held in 2019, 17 teams signed up for the event including our own 'Trident Otters'. Despite the wet weather the event was very well attended by friends, family as well as by the local community, all of whom cheered on the teams from the banks of the lake.
Each team took on three heats before the final three with the fastest overall times went through to the final. The three finalists were Seymour's Estate Agents - Woking, Burns Kitchen and Bathrooms, and Natta Building Company - the reigning champions from 2019. It was a nail-biting final race with hundredths of a second between all three teams; so when they came back to shore no-one knew who would be crowned Dragon Boat Champions 2022.
To present the medals and trophy were Sue Cook and Richard Roberts. Sue Cook is the mother of Kris Cook, for whom the dragon boat races are held in memory, after he passed away during the Prudential Bike ride in 2014, whilst fundraising for the hospice. Richard Roberts is the managing director of Trident Honda, the main event sponsor. Richard is also a trustee of the hospice.
The champions for 2022 were Seymour's Estate Agents, 2nd place went to Natta Building Company, and 3rd place to Burns Kitchen and Bathrooms.
Krista Lougher, Community Events Fundraising Manager, commented:
It has been a fantastic day despite the wet weather. We would like to thank all the teams who took part and are still raising money for us as they collect their sponsorship. To the local community for braving the weather and who still came out to enjoy the fun day. And of course to all the staff and volunteers who help make these events possible. It was so good to be back after such a long break and we are looking forward to 2023.
Team Names
Seymour's Estate Agents- Woking
Derek's Dragon - In memory of Derek Demuth who was cared for at the hospice in 2018
Trident's Otters - Trident Honda who also sponsored the event
Field Care Centre
The Cardinals Crazy Crew - Cardinals Netball Club
Natta Building Company
Emergy Rockers - Emergy Fit in memory of Liz Horne
The Cricketers Horsell
Toad Hall Nursery
RAMS
Burns Kitchen and Bathrooms
The Pink Ladies
Drowning Dragons
Team KC - in memory of Kris Cook
Hospice Heroes - staff, volunteers and friends and family from the hospice
Clandon Wood
McDonalds Marvels - who presented the hospice with a cheque for over £3,680 on the day
About the Woking & Sam Beare Hospices
We deliver 8,760 hours of care and support each year
Our team of specialist healthcare professionals care for our patients 24 hours per day, seven days per week
We care for thousands of patients and their families year on year
Over 80% of our care is delivered in patient homes or care or nursing homes
We receive referrals from Spelthorne, West Elmbridge, Woking, North Guildford, Surrey Heath and Runnymede but we can take patients outside of our region if required
We are specialists in care for patients with advanced progressive complex needs
We care for patients with, for example, advance dementia, heart disease, cancer, degenerative conditions and kidney disease
We care for adults of all ages (18-85+)
Our services are completely FREE of charge
We offer support services for carers and family members
We provide child and teenage bereavement counselling
Our Wellbeing Centre offers a range of treatments and therapies
We have 816 fabulous volunteers, without whom we could not deliver all that we do
We work closely with GPs and other clinicians to share knowledge and expertise
For every £5 of costs incurred we need to raise £4 from voluntary income
We need to raise in excess of £8 million a year to continue to deliver our services
For more information visit: