Civic celebrates its 50th anniversary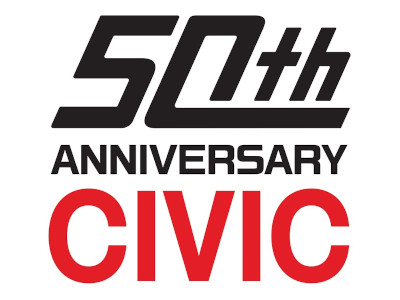 This year Honda is celebrating 50 years of its iconic Civic.
Developed as a 'car for the world', more than 27.5 million Civics have been sold in 170 countries since the model was first launched in 1972. As it enters its sixth decade with the launch of the 11th generation, the Civic continues to set new class benchmarks and exceed the expectations of customers around the world.
The Civic's enduring popularity is testament to the pioneering work of Honda engineers over the past half a century. Each generation has introduced its own progressive evolution of the original Civic design, advanced technologies and new levels of performance, while maintaining the same purpose as the first Civic: a spacious, fun to drive and economical compact car.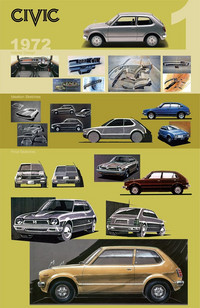 1972 - 1979
The first Civic was developed as a global car for all markets, offering exceptional practicality in everyday driving. It was one of the first Honda cars to be sold in Europe, achieving instant acclaim for its compact design, impressive fuel economy and usability.
Equipped with a revolutionary Compound Vortex Controlled Combustion (CVCC) engine, the Civic became the first vehicle to comply with the world's strictest emission regulations, the 1970 Clean Air Act, setting the standard for future emissions targets across the global automotive industry.
The first generation Civic was first produced in Suzuka Factory, Japan.
Accumulated production volume reached 1 million units within the first four years.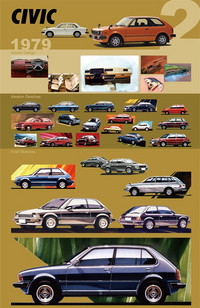 1979 - 1983
In 1979 the second generation Civic arrived along with an improved CVCC-II engine, building on the success of the original Civic with a 1.3 litre engine that offered a smoother delivery of power as well as being more economical. The range of models was also extended with a 1.5 litre sedan, hatchback and wagon also offered. A five-speed manual transmission was also added to the line-up.
The model introduced a new distinctive two-box trapezoidal design with the front grille and headlights getting a more angular look. However, this shape was short lived as the Civic grew in popularity and a new model was required to meet consumer demand for larger cars.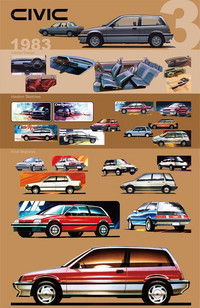 1983 - 1987
The third generation Civic arrived in 1983 with a wider wheelbase and a more angular design. It is notable for the introduction of Honda's 'Man Maximum-Machine Minimum' principle, a human-centric approach to design that ensures the technology and layout served the needs of the driver and passengers. Today, this principle still helps define all Honda models, to help deliver the space and usability expected by modern drivers.
It was available in three body styles: a three-door that emphasised sporty driving, a more practical four-door sedan, and a five-door Civic Shuttle station wagon that offered exceptional space and utility. A sportier Civic Si variant was also introduced with a 1.6 litre DOHC series inline four-cylinder engine.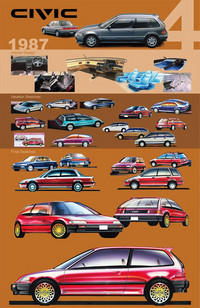 1987 - 1991
In 1987, the fourth generation Civic introduced a new range of engine options featuring Honda's VTEC (Variable Valve Timing and Lift Electronic Control) system. Its variable timing mechanism revolutionised engine technology, delivering greater performance at high revs and improved fuel consumption at low revs - landing the Civic several awards.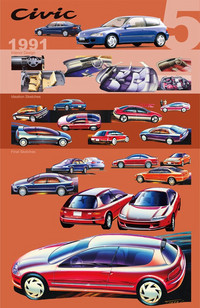 1991 - 1995
The fifth generation Civic quickly followed in 1991, debuting a sleeker and more aerodynamic form, for a sportier appeal - while maintaining the everyday functionality the car had become synonymous with. The sixth generation Civic was developed to create a higher value than its class. In 1990s, lower fuel consumption and other environmental actions became more significant. As such, this model had a newly developed VTEC engine. It also featured 'Hondamatic Transmission' an automatic continuously variable transmission (CVT) for the first time, which offered seamless gear changes and manual-like economy.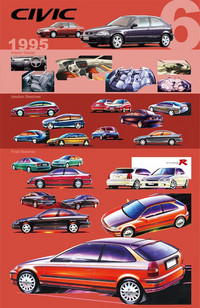 1995 - 2000
Building on the exceptional dynamic capabilities of the standard Civic, Honda debuted the performance-focused Type R variant in 1997. With a focus on delivering the most extreme performance yet seen from Civic, it became the catalyst for 25 years of success for Honda in the competitive hot hatch sector.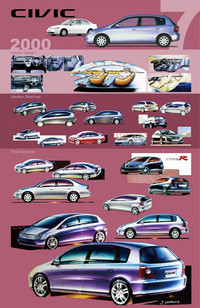 2000 - 2004
The seventh generation arrived in 2000 and became the first Civic to offer hybrid technology in 2001.
This Civic recorded the world's most fuel-efficient 5-seater production gasoline vehicle with ultra-high fuel economy of 29.5km/l.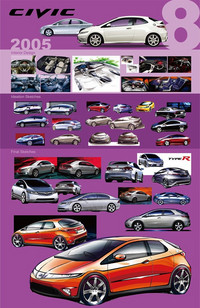 2005 - 2010
In 2005, the eighth generation hatchback arrived with futuristic styling for European markets, a Perspex grille and triangular accents - including the dual tailpipes - that made it one of the most distinctive vehicles on the road. It was also the first generation of Civic to feature Honda's Magic Seats, where the rear seat cushions can be raised to create a tall loading area. This was enabled by engineers situating the fuel tank beneath the front seats - a blueprint for achieving interior space and usability still followed today in various Honda models.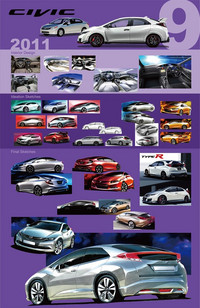 2011 - 2021
The ninth generation Civic added further refinement to create a well-rounded package for customers, including class-leading efficiency. Featuring a revised 1.6 DTEC engine, the vehicle achieved a Guinness World Records title for the 'Lowest fuel consumption - all 24 contiguous EU countries (all cars)', recording an average 2.82 litres per 100km (100.31mpg) over 13,498km (8,387 miles), in a 25 day drive across all 24 EU contiguous countries.
A completely remodelled 10th generation arrived in 2015 with a choice of two VTEC TURBO engines and incorporated advanced safety features and driver aids, Honda SENSING, for the first time.
Engineered with a stiffer chassis and greater dynamic performance, it provided the perfect platform for the 2017 Civic Type R, which set new performance boundaries for high-performance hatchbacks. The car was universally praised for its direct handling, instant throttle response, high top speed, stability and exceptional stopping power - all of which contributed to the Type R setting a new benchmark lap time for front-wheel drive cars at the Nürburgring Nordschleife in Germany in April 2017.
The future…

Building on 50 years of heritage, the 11th generation Civic blends strong performance and efficiency with improved levels of interior comfort, visual appeal and overall usability. The latest iteration marks a major milestone for Honda in Europe, as it's the latest model in the range to be electrified, completing Honda Motor Europe's 2022 'Electric Vision' commitment to electrify all mainstream models It features the most advanced iteration of the brand's multiple award winning e:HEV full-hybrid powertrain system as standard, offering engaging dynamics and performance with impressive economy and efficiency.
Order books for the all-new Honda Civic e:HEV open in July, with first deliveries commencing from October 2022.