Trident Honda sponsors Hospice Woodland Walk event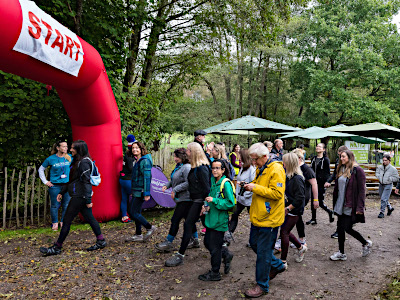 The Woking & Sam Beare Hospice Woodland Walk is being held this year on Sunday, 25th September 2022.
IMPORTANT UPDATE: The start and finish will now be at Fairoaks Airport on 25th September.
The Woodland Walk starts and finishes at the Event Village, at the McLaren Technology Centre in Ottershaw. Supported by McLaren Group and Trident Honda, the walk is open to everyone who is looking for a fun day out. With 5 and 10 mile route options, the event is ideal for individuals, families, as well as for avid walking groups.
The Hospice Woodland Walk is set against the beautiful backdrop of wooded and wetland areas that takes you from McLaren Park, across Fairoaks Airport, to Heather farm and onto Horsell Common. There's even a Nature Trail along the way for both young and old to enjoy. All walkers will receive a unique Woodland Walk medal at the end, under 5's will receive a Woodland Walk sticker.