Honda UK wins the 2022 Driver Power Dealer Survey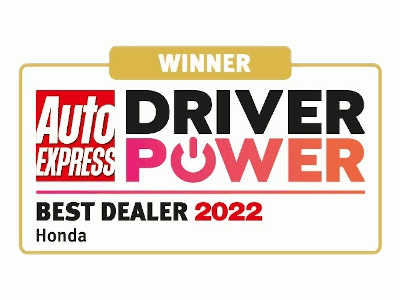 Honda UK has won the prestigious Auto Express 2022 Drive Power Dealers Survey, for Best Dealer, recognising the excellence of the Honda dealer network. The Honda CR-V also won awards for Best Safety Features and Best Interior.
Honda UK - Best Dealer 2022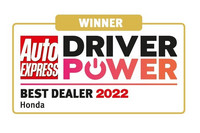 The results of the Auto Express 2022 Driver Power Dealers Survey have been derived from more than 74,000 respondents, making it the biggest of its kind in the UK and is industry recognised as providing guidance and opinion from those who really matter, the customers, which is evident to the importance of the award.
Survey respondents were happy with the retail experience that Honda dealers provided. Showrooms offer attractive deals on models, particularly when it comes to tailoring finance options, with excellent value for money being reported. The salespeople encountered were friendly, and the clean, modern facilities were a welcome addition.
Rebecca Adamson, Head of Automobile at Honda UK, commented:
To win best dealer for 2022 is a sought-after accolade in the industry and is a huge achievement for Honda and our trusted dealer partners. The award is a fantastic badge of honour and to be recognised by Britain's best car survey is a tribute to our fantastic dealership network and I very much look forward to seeing the success continue.
Steve Fowler, Editor-in-chief at Auto Express, commented:
Honda's performance in this year's Driver Power dealers survey has been exceptional. No other manufacturer scored so consistently across both our sales and servicing categories. It's clear to see that if you want an excellent customer experience, whether you're buying or owning a car, it's Honda that is leading the way.
Honda CR-V - Best Safety Features and Best Interior
As well as achieving number one for Best Dealer, the survey also includes the top 75 cars to run in Britain, judged again by the owners. Honda is thrilled to confirm that the Honda CR-V Hybrid continues to prove its credentials as it wins two gold awards, Best Safety Features and Best Interior, with one owner commenting:
Once you become familiar with the location of switches in the CR-V, it's very easy to switch features such as adaptive cruise control, lane-assist etc on and off.
The Honda CR-V is responsive, smooth, and efficient. It's an SUV with an intelligent, highly advanced e:HEV powertrain that provides a seamless driving experience. Honda SENSING is a suite of clever safety features that alert you to the dangers you might miss and is available as standard in the Honda CR-V, created to keep you and your passengers safe.