The 94th Woking Open Sponsored by Trident Honda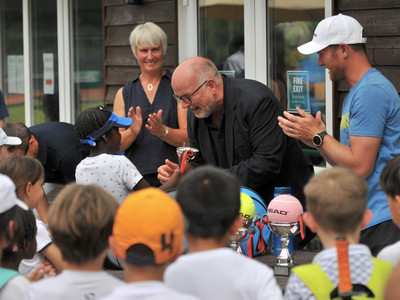 The 94th Woking Open, Sponsored by Trident Honda, saw some of the top players in the UK battle for seven days on Hook Heath's finest tennis courts, with over 400 players looking to win one of the coveted Woking Open titles.
The event kicked off with Woking's first ever Wheelchair Tennis competition. The eventual winner was Kent player Lawrence Blomfield, but the surprise performance was TikTok star Jack Wells (@1legdancer - 250k followers) as runner-up in his first ever tournament!
Over 600 matches were played through the week in Junior, Men and Ladies' events, with a number of local youngsters capturing the attention of fans. Surrey's Max Carrier became the youngest ever winner of the Men's title the day before his 15th birthday, after beating Surrey team player Frank Johnston (18yrr) 6-4 6-2 in the final (one to lookout for at Junior Wimbledon next year!). Other standout performances included WLTCC Coaching duo Jonny Thomson and Issy Betts winning the Mixed doubles crown, as well as favourite Sammy Mhizha winning 12U Singles and Doubles titles, alongside George Lobb.
Other Woking locals managing to make the finals included: Brothers Timmy (8U Boys R-U) and Toto Lee (11U Boys R-U), Lyla Read (12U Girls R-U), Konstantin Vujnovic (14U Boys R-U), Hayden Davey and Sammy Mhizha (14U Boys Doubles R-U), Max Bland and Sam Geering (16U Boys Doubles R-U), Kira Turpin (18U Girls R-U) and Jamie Forrest and Lewis Hunnisett (Men's Doubles R-U).