Racing through Martian terrain in a challenge for charity funds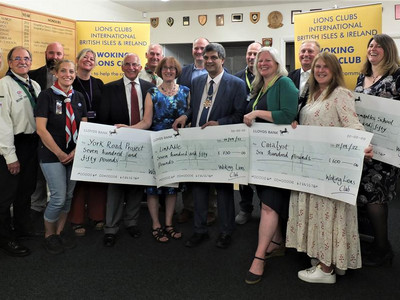 More than 400 runners took part in this year's Martian Race, held on Sunday 26 June 2022 at Horsell Common. The event was organised by the Woking Lions, with Trident Honda as the headline sponsor.
"We had 432 taking part, split over three distance categories." Lion Roger Chamberlain said, "About 70 went in the 5K, around 250 in the 10K and 100 in the 21K."
"Our beneficiaries from the race are Linkable, which is the Mayor of Woking's charity this year, Friends of Freemantles School, York Road Project, Woking & Sam Beare Hospice, and Woking Community Transport, one of who's Bustler buses ferried members from Woking station to McLaren."
Roger added: "Our main sponsors were Trident Honda, who met the cost of our 'green' medals, made out of UK sourced wood, whilst Heather Farm Cafe, run by Barron's pub company, provided our prize money for each of the three distances."
"Runners enjoyed a free banana given by Boz's Fruit & Veg and water was made available throughout by Horsell Co-op and Waitrose. We are also grateful to the volunteers who gave their time and the land owners Horsell Common Preservation Society, McLaren, Fairoaks and Cars Europe, but particularly to Horsell Scouts who provided our tentage and other equipments at the run village, and Team Medic from Mayford Business Centre."
About the Martian Race
The Martian Race is organised by volunteers and all proceeds are distributed to local charities that are carefully selected by the Woking Lions. The event is held on Horsell Common which is privately owned common land on the western edge of Woking. Almost half of the common is designated as a Site of Special Scientific Interest (SSSI).
The routes are chosen to respect the flora and fauna that live there and we strive to minimise our impact. The races are always litter free and this year Woking Lions have pledged to be free of single-use plastics.