Honda confirms pricing for all-new Civic Type R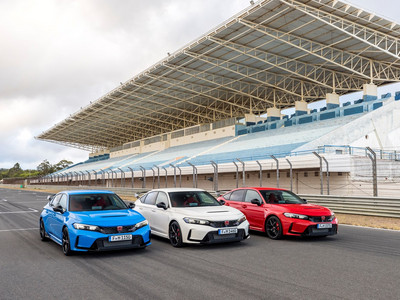 Honda has confirmed pricing for its highly anticipated all-new Civic Type R. The latest Type R follows a long tradition of high-performance vehicles inspired by the spirit of racing, pushing the boundaries of performance in a front-wheel drive car. Despite its performance-focused upgrades, the new Type R builds on the human-centred approach to dynamics, design, and usability that Honda engineered into the 11th generation Civic.
Recommended prices for the Civic Type R will begin at £46,995*. The car will also be available on finance, from £499 per month / 8.9% APR** through Honda Financial Services.
For that price, customers will get the most advanced and complete Civic Type R to date. Honda engineers have refined every aspect of the new model, including design enhancements that improve aerodynamic performance, lightweight components, and an increase in power.
The most capable Type R ever
The latest generation is the fastest and most capable Civic Type R ever, which builds on the capabilities of the previous model, and the exceptional platform of the all-new standard Civic. Only one engine option is available in the Type R, the strongest, most powerful VTEC Turbo ever produced by Honda. The revised six-speed manual transmission offers faster and more responsive gear changes, paired with a new rev-match system and auto blip feature that ensure perfect down shifting to help balance the car on corner entry.
Other standard specification features include the bespoke Type R styling elements that make it lower and wider than the standard car; of which, only the front doors and rear tailgate are retained. New sculpted and aerodynamically formed wheel arches are paired with subtle yet purposeful bumpers and an updated rear spoiler to offer a comprehensive level of useable downforce. Also fitted as standard are the new, reverse-rim lightweight 19-inch matt black alloy wheels, wrapped in bespoke compound Michelin Pilot Sport 4S tyres.
Inside, the Civic Type R benefits from the same high levels of comfort, practicality, and refinement as the all-new Civic, only elevated through the application of performance-focused items and the use of the evocative, classic Type R crimson red trim. The fully customisable and digital binnacle is standard on the Type R and is core to achieving a centralised cockpit layout that enhances driver concentration during intense driving experiences. The dial set works in conjunction with the multiple drive modes and offers increasingly concentrated layers of driver information.
For the first time on a Type R, the pre-defined drive modes are joined by a new, fully programmable 'Individual Mode' which offers drivers the autonomy to tailor their car to their preferences in a number of areas such as suspension, throttle response, steering, display read out, engine noise and more. These options can be tailored through the central, large touchscreen display as well as several new options and functions within the infotainment system, which incorporates Apple CarPlay and Android Auto as standard.
Amongst these new functions is Honda LogR; a highly integrated data-logging system that draws information from a number of sensors around the car. The system provides drivers with a wealth of data, presented in a way that can help improve their driving skills. Accessed via the central touchscreen, parameters such as G-forces, tyre forces, as well as vital temperatures and pressures are all relayed in clear, easy to interpret formats.
"Celebrating 25 years of success, the Civic Type R is a cult hero to many loyal customers, drivers' clubs and communities around Europe," said Tom Gardner, Senior Vice President at Honda Motor Europe Ltd. "The latest generation builds on the success of its predecessors, injecting Honda's motorsport-derived technologies to deliver the most performance-focused Civic Type R experience in our history."
Order books for the all-new Honda Civic Type R are open from 30 November 2022, with first deliveries expected in Europe from January.
* Terms and Conditions
New retail Civic Type R ordered with Honda and finance approved by Honda Finance Europe from 30 November 2022 to 31 March 2023 and registered by 30 June 2023. Subject to model and colour availability. Offers applicable at participating dealers (excluding Channel Islands) and are at the promoter's absolute discretion. Not to be used along with any other offers currently available.
*OTR may be subject to change due to actual or unexpected changes in tariffs, duties taxes or other costs which may affect importation or other costs of supply.
**8.9% APR representative Honda Personal Contract Purchase (PCP): Maximum customer deposit 30%. At the end of the agreement, there are three options: i) Retain: Pay the optional final payment to own the vehicle, ii) Return: Return the vehicle, or iii) Renew: Part exchange your Honda for a new one. You do not have to pay the Final Payment if you return the car at the end of the agreement and you have paid all other amounts due, the vehicle is in good condition and has been serviced in accordance with the Honda service book and the maximum annual mileage has not been exceeded. Excess mileage charge includes VAT at current rate.
Indemnities may be required in certain circumstances. Finance is only available to persons aged 18 or over, subject to status. All figures are correct at time of publication but may be varied or withdrawn at any time.
Trident Garages Ltd is authorised and regulated by the Financial Conduct Authority (Ref No 309382) for consumer credit purposes. We are a broker for finance and not a lender. Please be aware that lenders may pay us a commission for introducing you to them. This commission can be based on the amount you borrow on the vehicle you purchase. Different lenders may pay different commissions for such introductions. Any commission amounts lenders pay will not affect the amount that you pay under your finance agreement, all of which are set by the lender.
Credit is provided by Honda Finance Europe Plc. Honda Financial Services is a trading name of Honda Finance Europe Plc. Cain Road, Bracknell, Berkshire RG12 1HL a company registered at Companies House No 03289418. Honda Finance Europe plc is authorised and regulated by the Financial Conduct Authority, Financial Services Register number 312541.