Honda triumphs again at Red Dot design awards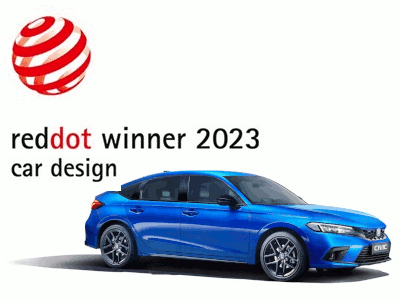 Honda has won two honours at the 2023 Red Dot Design Awards, for the all-new Civic e:HEV and for the Civic Type R.
The Red Dot Design Awards are an internationally sought-after distinction, recognising outstanding product design that is aesthetic, functional, smart or innovative. Selected by a panel of 50 international experts that tests and evaluates each entry, the winners reflect the latest technical, social, economic and ecological requirements of consumers.
"This year, Honda celebrates its 75th anniversary, and to receive multiple Red Dot Design Awards in the Product Design category for the fourth year in a row is fantastic and testament to our development processes. We believe in a unique human-centred approach to design and usability, and it is gratifying to see that focus reflected in the continued recognition for Honda at the Red Dot Design Awards," said Toshinobu Minami, Chief Operating Officer, Design Center, Honda R&D Co. Ltd.
The all-new Civic e:HEV hatchback followed a development ethos of 'Exhilarating Civic', focusing on how the exterior and interior packaging can work together to create a more comfortable and refreshing in-car experience that will enhance owners' everyday lives. The latest model to adopt Honda's noiseless, elegant design direction, the new Civic features a longer wheelbase, a lower, sleeker roof line, and a lower belt line that increases the glasshouse. This not only improves outward visibility, but also delivers the same sense of space and airiness experienced inside the original Civic.
Honda's long standing 'Man-Maximum, Machine-Minimum' (M/M) development principle has resulted in a user focused yet modern design with particular attention paid to colours, high-quality materials, and tactile touchpoints to enhance the user experience. Clever packaging of the hybrid system within the chassis ensures that despite the sporty silhouette, interior space is not compromised.
Developed under the model concept of creating the Ultimate Sports 2.0, the new Civic Type R enhances the sleek and sporty silhouette of the standard model, adding wider arches, wide flow-formed 19" wheels, aggressive track-focused styling and a functional rear wing that produces genuine downforce. Internally, the new Type R pays homage to its iconic predecessors, featuring red carpet and figure-hugging sports seats, along with a new metal teardrop weighted shift and a bespoke digital dialset.
This year's accomplishments bring the number of Red Dot Design Awards won by Honda to 13 since 2020, including a 'Best of the Best' accolade for the Honda e in 2020.