All-new Honda ZR-V e:HEV Hybrid bridges the gap between the HR-V and CR-V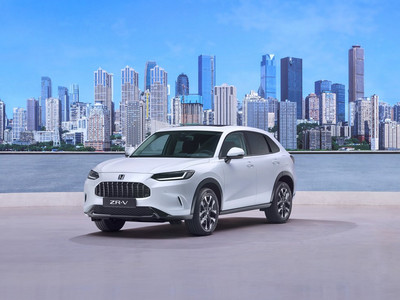 Honda has revealed its all-new ZR-V e:HEV Hybrid, available from Autumn 2023. Lining up between the HR-V and the forthcoming, enlarged CR-V, the ZR-V offers a stylish, powerful and fun to drive vehicle.
The all-new SUV blends sporting looks, rewarding dynamics, high levels of practicality and a premium interior.
Beneath the sleek, stylish exterior is Honda's full e:HEV hybrid technology, that shares DNA with the multi-award winning Civic e:HEV. Acclaimed for its dynamic attributes, the Civic has proven that full hybrid vehicles can be engaging and fun to drive.
Optimised for the ZR-V, the e:HEV's efficient yet powerful 2.0-litre, four-cylinder direct injection engine works in conjunction with two electric motors to provide punchy, responsive acceleration.
The bespoke, lightweight, rigid chassis has been inspired by concepts seen in both the Civic and CR-V, and has been engineered to deliver the driving characteristics and high levels of agility usually associated with sports hatchbacks. Steering is effortless yet rewarding thanks to a refined feedback control logic and low-friction components, whilst the multi-link rear suspension and optimized bushes ensure a comfortable yet engaging drive that boosts confidence and comfort behind the wheel.
The ZR-V possesses a purposeful stance, with a strong road presence that perfectly complements its dynamic performance. The ZR-V's compact package provides exceptional space, practicality and comfort, delivering optimal functionality for ease of use and creating a versatile cabin that prioritises usability and flexible stowage capacity. This is typified by a vast array of trays and pockets, alongside a rear cargo space that features a load partition, retractable parcel cover and under floor storage, boosting the ZR-V's load-carrying versatility up to 1,291 litres.
The class-leading interior experience is further enhanced by impressive levels of comfort and convenience. High-quality soft-touch materials with detailed finishing combine with stylish lighting throughout the cabin to create a premium ambience. In addition, multiple charge points and the latest HMI technology keep the driver and passengers connected to the outside world via a large nine-inch touchscreen in the centre of the upper dash panel, which stretches across the front of the cabin to enhance the sense of lateral space.