Oar-some day at the Woking & Sam Beare Hospice Dragon Boat Races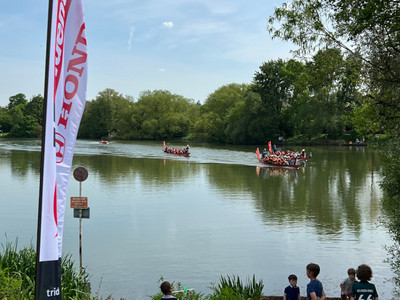 On Sunday 14th May, the Woking & Sam Beare Hospice Dragon Boat Races and Family Fun Day returned to Goldsworth Park Lake. Trident Honda is proud to have been the principal sponsor of this event since 2016.
To launch the event, the Chinese Association performed a traditional Dragon Awakening ceremony and eyes were painted on the Dragon Boats by Sue Cook and the Chairman of Woking & Sam Beare Hospice, Tim Stokes.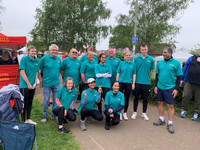 The races then commenced as teams gave it their all to compete against each other in a bid to reach the grand finale. The brave competitors were a mix of corporate supporters, local sports clubs, and teams rowing in memory of a loved one. There was, of course, a team of 'Hospice Heroes' comprising staff and volunteers from across the Hospice, as well as Trident Honda's team, the 'Trident Otters'.
There was a fabulous atmosphere at the Family Fun Day on the banks of the Lake where the spectators cheered on the teams.
A huge congratulations to our winners, F3 UK, whose fantastic joint efforts saw them glide through the lake to the finish line. Thoroughly deserved as a team who help men to be the best version of themselves for their families, workplaces, and communities via their workout groups.
Their three competitors in the final - Team Natta, Odin's Wet Whiskers, and Derek's Dragons - certainly put up a good fight though, as onlookers gazed on as the four boats charged alongside each other, with fractions of a second between them. The best fancy dress prize went to Pete's Pirates, who caught the eye of the crowd with their swash buckling outfits.
Thank you to all our other teams 'Rowing Me Rowing You Aha', The New GSTW Team, McLaren, All Oar Nothing, Dynavics, Harvey Water Softners, Horsell Runners, Woking McDonalds, Aldershot McDonalds, Seymours, St Andrew's Church, Coroner's Crew, Toad's in the Boat, Top Notch, and Emergy.
"A big thank you to all the teams, volunteers, staff, local community and Trident Honda for helping to make this event the amazing success that we saw on Sunday." - Marian Imrie, CEO Woking & Sam Beare Hospice.
Making their debut appearance for the Hospice on the day was the newest member of our team, Sam Beare, the Bear. Braving the splashes of water created by their haphazard crew mates, Sam joined in the warm-up led by Emma Goodman-Horne from Emergy Fit, and cheered from the side.
This amazing event once again in memory of Kris Cook, who grew up close to the lake, where he pursued his love of water sports.