Trident Honda celebrates another successful Downslink Challenge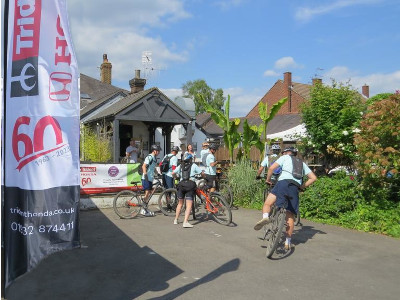 Trident Honda, once again the proud sponsor of the Downslink Challenge, extends its heartfelt congratulations to all the remarkable riders who conquered the challenging course on Saturday.
The Downslink Challenge, which took place on Saturday 3rd June, saw entrants cycle on and off road, up to a staggering 102 miles, from Knaphill to Brighton and back again; although some wisely chose the half-course, by starting in Brighton and cycling the mere 51 miles back to Knaphill! The route largely follows the Downslink bridleway, an old disused railway line.
The event always starts and finishes at the Garibaldi Pub in Knaphill, so once the riders returned there was a suitable celebration party continuing the spirit of the Downslink Challenge, and leading to some sore heads to go along with the other sore parts of the body!!
Trident Honda is proud to have been the sponsor of the Downslink Challenge since its inception in 2016. Now in its eighth year, the funds this year will go to two charities, the Woking & Sam Beare Hospice, as well as this year's guest charity - Tourettes Action:
Please do consider boosting the event's fundraising, by making a donation via the following link: