The Honda Civic Type R Triumphs in News UK Motor Awards 2023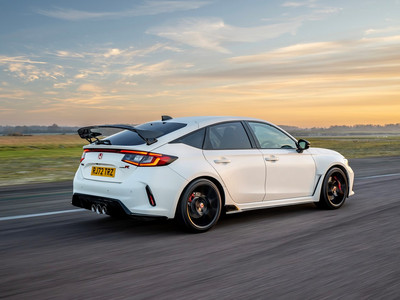 The FL5 Honda Civic Type R has triumphed in the Sunday Times Hot Hatch of the Year category at the 2023 News UK Motor Awards.
Shortly after the 75th anniversary of the Honda corporation at the end of September, the Civic Type R now in its sixth generation has rewarded the brand by adding to its ever-growing trophy cabinet. Further confirming a driving experience born from race-bred technology and honed on tracks around the world, the Type R is engineered for a dynamic and perfectly balanced drive.
The News UK Awards, now in their sixth year continues to campaign all motoring segments from hot hatches to off-roaders and family city cars. The awards are judged by an expert panel of News UK's automotive journalists, with the hot hatch segment focusing on vehicle performance and head turning design.
Rebecca Adamson, Head of Automobile at Honda UK, commented "We are thrilled that the Sunday Times motoring team have applauded the strengths of the Honda Civic Type R, highlighting the vehicles driver focused design. The Type R is our ultimate hot hatch and a prime example of 75 years striving towards performance vehicle perfection."
Nick Rufford, Sunday Times Motoring Editor commented "From the moment you climb inside the Civic Type R it beguiles you with its touring car feel. The seats are grippy, the dashboard alive with performance feedback, including readouts even for G-force and tyre friction. There's more: a sense of visceral enthusiasm. Release the clutch, rev to the red line and the Type R will reach 62mph about half a second quicker than the previous version. Power feels plentiful in every gear and on a track you can drive as though your hair's on fire, possibly your trousers too. The Michelin Pilot Sport 4S tyres give superb grip, as I can attest having gunned it round Portugal's former F1 circuit in the wet, at speeds that should have sent me into a gravel trap."
The Civic Type R is priced from £49,995 OTR. To find out more about the Honda Civic and Honda Civic Type R, visit: