2015 Honda Civic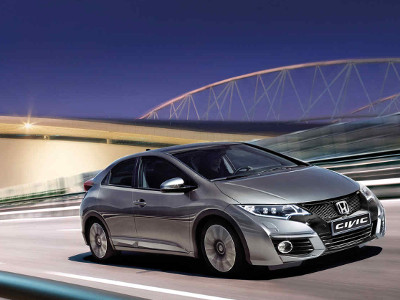 The new Civic has smooth and racy lines on the outside, complemented by the smart design on the inside; you can see everything on the dashboard at a glance - so you don't have to take your eyes away from the road for long.
Feel good inside
Whatever surprises life throws at your best-laid plans, you can rely on your Civic. Its comfortable interior has a high-quality finish that makes it feel, quite simply, a good place to be.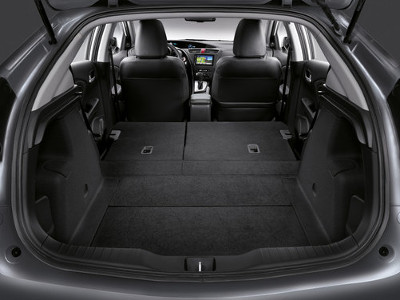 The Civic's effortlessly adaptable Magic Seats fold over, lift up and lock into place in one smooth action. With the rear seats lying flat, there's a cavernous 1,210 litres of space to fill (including 70 litres of useful under-floor storage space). So no matter your load, there's plenty of room for life's demands.
Honda CONNECT
The Civic is home to the new Honda CONNECT in-car audio and information system, which keeps you in touch with all the things you love in life - like your music and your friends.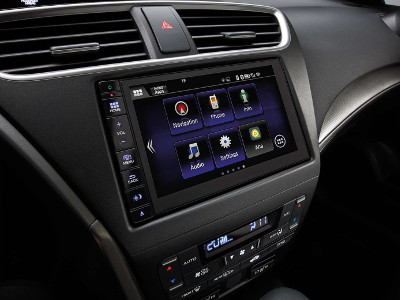 The updated Civic features our new Honda Connect technology. It's a central touchscreen that puts all the things you love in life, like your music and your friends, right at your fingertips.
You can personalise the Honda Connect 7" touchscreen with your favourite photos. It gives you easy access to your mobile phone contacts, and you can even set up voice tagging.
On-board navigation is provided by Garmin™, which uses a simple icon menu to give you maps, real time traffic information and speed limit warnings1. Honda offers you a total of four annual free map updates after the purchase of your car.
The intuitive touchscreen gives you access to all your mobile phone functionality, via Bluetooth™. You've also got WiFi, USB and HDMI™ connections to give you internet and music for your journeys.
The AHA app gives you access to a host of radio stations and your favourite social media at the touch of a button.
Efficient power
The 1.8 iVTEC will make you fall in love with driving all over again. The 1.4 version is surprisingly playful too; but if you crave punchy performance with even greater economy, then the 1.6 iDTEC diesel is the match for you.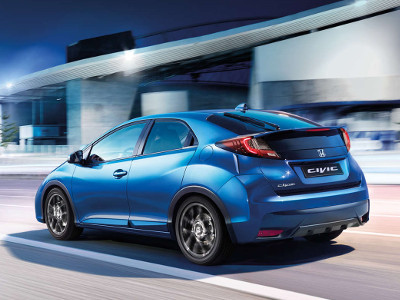 Our challenge: to balance environmental efficiency with dynamic performance.
Our answer: the Civic's 1.6 i-DTEC diesel engine, the first product of our Earth Dreams Technology. This remarkable engine provides the best combination of power and fuel consumption in its class.
Delivering 120ps of power, the Civic 1.6 i-DTEC engine provides class-leading balance of power and economy. The numbers are impressive, with fuel efficiency of 3.6 l/100km2 (65-mpg) and low emissions of 94g/km of carbon dioxide, but it's the day-to-day thrill of driving it that really excites.
The smaller 1.4 i-VTEC petrol engine offers surprising response out on the road. The 1.8 i-VTEC petrol engine packs a punch while offering the fuel efficiency of a smaller engine. Whichever one you choose, you'll enjoy outstanding fuel economy, excellent performance and cleaner emissions. That's power and performance working in harmony.
Whether you're focused on fuel economy, or want a little extra power as well as efficiency - you'll find a diesel or petrol Civic engine that will deliver the driving experience you want.
Keeping you safe
Feel genuinely excited, by feeling genuinely safe, the Honda Civic is packed with advanced engineering and computing to keep you and your passengers safe.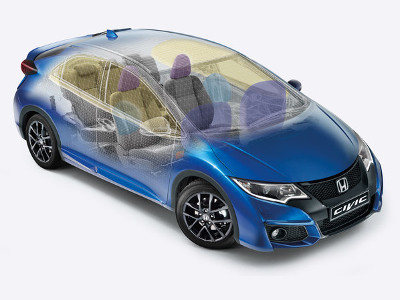 Traffic sign recognition
How many times have important road signs whizzed past you in a blur? Traffic Sign Recognition (TSR) automatically recognises road signs and displays them via the Intelligent Multi Information Display, so you always know exactly what you've just passed.
Blind Spot Information
It can be frightening and dangerous when you fail to see another vehicle that is obscured by the door or window arches of your vehicle. We've introduced a Honda-first radar technology called Blind Spot Information, which can automatically detect vehicles where your vision is restricted and give you a warning.
City-Brake Active System
Not all accidents happen at high speed.
There are all kinds of bumps and knocks that happen in car parks or even on your own driveway. CTBA is a laser radar system that scans the road ahead, automatically applying the brakes if a risk of a possible collision is detected.
Airbags
The Civic has been fitted with airbags all round, including curtain airbags. Known as Supplemental Restraint System (SRS), the airbags offer you greatly enhanced protection while out on the road.
High-beam support system
Assesses driving conditions around you and automatically switches on the high beams if required.
Lane Departure Warning
Detects road markings and if the car strays from your current lane without indicating, the system alerts you with audible and visual warnings.
Cross Traffic Monitor
This system warns you when you are reversing or approaching vehicles. Using rear side radar sensors located in the rear bumper of the car, it tells you the direction the vehicle is coming from.
Civic Sport
We've introduced a meaner, more aggressively-styled Civic to the range, with looks to match the performance. The Civic Sport was developed by the same team that created the stunning new Civic Type R.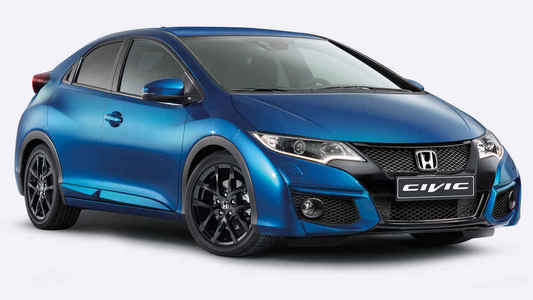 And it shows. Dramatic new styling sees the grille incorporated into the racy new front. The colour-coded rear spoiler and the sporty 17" black alloy wheels add a much more dynamic appearance - and will raise the hairs on the back of your neck.
Video: Honda Civic Feeling
Further information
For more information, or to arrange a test drive, please call our Sales Team on 01932 874411 or Contact Us On-line.