Honda Civic Tourer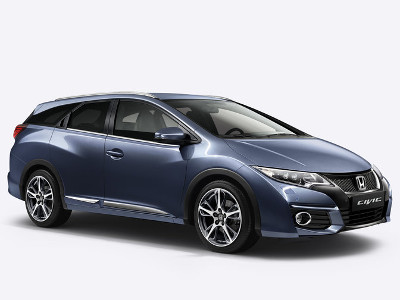 Our exciting new 2015 Civic Tourer is a car that seems to do the impossible, by combining sleek and sporty with safe and spacious. Who says you can't have it all?
Luxury for the long haul, or the short hop.
The sporty and spacious interior has a high quality finish for those who want to drive in style and comfort. There's plenty of room for you, your passengers and their luggage too.
Sharply shaped
Coming at you, or rolling past - the Civic Tourer cuts quite a dash.

At first glance, you'd be forgiven for thinking the Tourer is built for sport. That's because we've aligned the Civic's sweeping style to the Tourer's spacious frame. The result is an aerodynamic family car with a completely unique profile that doesn't compromise style for space.
The windows around the Civic Tourer seem to make the outside feel that little bit closer. That's because we've added a floating roof, which creates a band of window around the car for an almost uninterrupted view. The additional three quarters window offers you great rear visibility, helping give the car sleeker lines and better aerodynamics.
We were even thinking about performance when we designed the rear light and back section of the car. We did this by turning it into a 'wing' with small 'fins' running down it to improve drag and aerodynamics. For the Civic Tourer this meant better control, less turbulence and improved handling.
Make yourself at home
From here to there – the Civic Tourer will make sure the journey is always a comfortable one.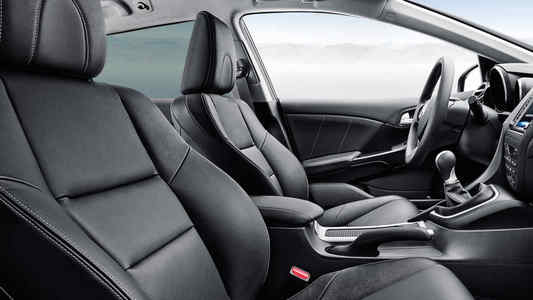 The Civic Tourer is designed with comfort as well as space in mind. We've furnished the roomy interior with high-quality materials throughout, as you can see with the luxurious leather seat covers. And the leather steering wheel covers aren't just for the looks; we put a great deal of thought into the best stitching pattern and positioning to give you the most comfortable grip.
Shaped for space
What you see is a miracle of versatility. There's a ton of useful space, and loads of potential for the way you live your life.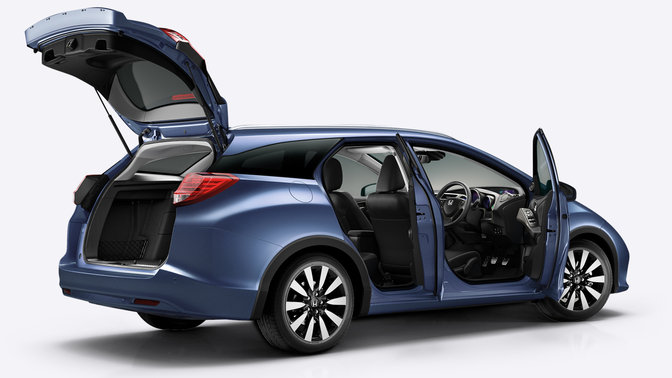 The new Civic Tourer allows everyone inside to enjoy the ride. Keeping its sporty exterior, there's now more storage space and flexibility, so you get the best of both worlds - creating a well-balanced, stylish car that's hard to beat.
From decreasing load height by lowering bumper entry, to adding convenient extras like an adjustable cargo net and a one-touch tonneau cover, we've made the interior as flexible and practical as life demands. What you get is a class leading 624 litres of boot space, 125 litres of underfloor storage, and a maximum load area of 1,668 litres with the seats down.
Safely under cover
Not just storage, but safe storage.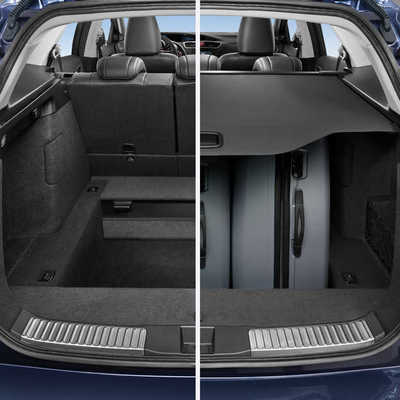 You'll find many convenient extras to help you make even more of the space inside the Civic Tourer. Take the tonneau cover for example. One touch release for quick and easy access to all your things. And if you want to pack lots in, the cover itself packs away in a flash – no effort, no struggles.
The Civic Tourer gives you extra peace of mind with its very convenient 125 litres of underfloor storage for your valuables. As you can see, we've made the interior as flexible, practical and secure as your life demands.
The Civic Tourer's effortlessly adaptable Magic Seats fold over, lift up and lock into place in one smooth action. With a class-leading 624 litres of boot space, 125 litres of underfloor storage, and a maximum load area of 1,668 litres with the seats down; you can make all kinds of plans - and completely change them if you want.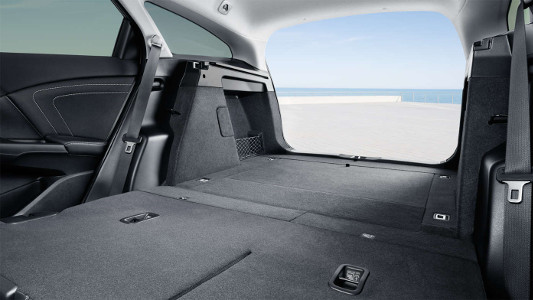 Your passengers will love all the head and legroom they have. There's plenty of room for their baggage too – the low rear sill ensures that the tailgate opens nice and wide, so it's easy for you to load the boot. Your back will thank us.
The Civic's innovative Magic Seats fold into a wide range of configurations, so you can create a useful space for any load, be it long, tall or a mixture of both.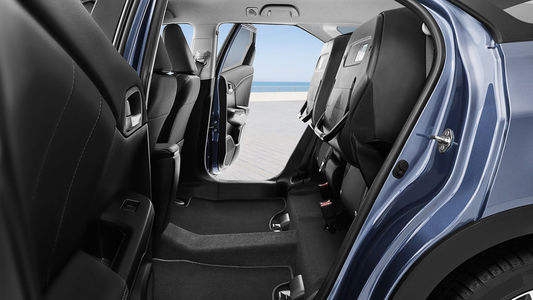 A joy to drive
Wherever you go – expect sporty and responsive handling.
Once you get out on the road, the Civic Tourer flies its true colours. You'll be surprised at the easy manoeuvrability, smooth cornering and light handling from a touring estate. Then again – you might not be surprised… it's a Civic after all.
The Civic Tourer is both compact and streamlined, offering refined control on the road – perfect for European driving. We tested it in some of the Continent's harshest and most diverse driving conditions until we were sure you'd be ready for anything.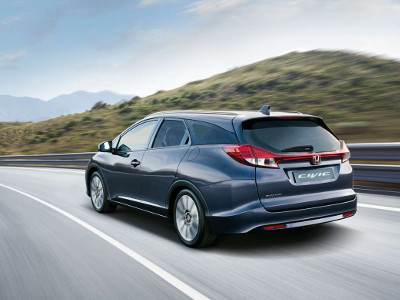 Feel the ride, not the road
Whether you're going on a long country drive, or taking a shortcut down a cobbled street, Adaptive Damper Suspension makes sure you enjoy the ride.
You'll find the Civic Tourer is a smooth drive, no matter what the terrain. Adaptive Damper System (ADS) is available as an option, it lets you adjust suspension modes until the ride feels just right.
How it works
The system features three easy to use settings: comfort, normal and dynamic. Simply select the mode that best suits your driving style, speed and surface; then Adaptive Damper Suspension (ADS) automatically adjusts handling and agility to your preference.
Engineered to perform
The 1.8 iVTEC will make you fall in love with driving all over again. The 1.4 version is surprisingly playful too.
But if you crave punchy performance with even greater economy, then the compact 1.6 iDTEC diesel is the match for you. Developed using our Earth Dreams Technology, this next-generation engine is the lightest and quietest in its class, specially tuned to ensure the perfect balance of efficiency and performance.
Efficiency is further enhanced by the Eco Assist system, which uses coloured lights to tell you how economically you're driving. There's also a shift indicator light on the display, which shows you the best time to change gears and save fuel.
Keeping you safe
Honda understands that effective car safety means being prepared for all driving conditions. You'll benefit from a wide range of standard safety features that can help prevent accidents from ever happening.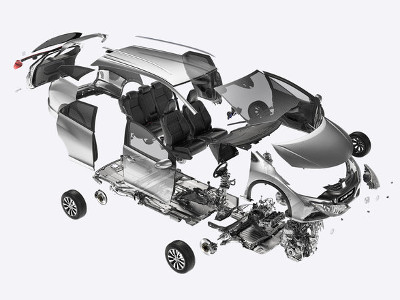 High-beam support system
Assesses driving conditions around you and automatically switches on the high beams if required.
Advanced Compatibility Engineering
Body structure absorbs collision energy and deflects it away from passengers. Also minimizes damage to the other vehicle.
Electronic Brake Force Distribution
Adds control logic to existing anti-lock braking system to control front/rear brake pressure according to front/rear weight distribution.
Deflation Warning System
A puncture can happen at any time, so the Deflation Warning System continuously monitors tyre pressure, warning you as soon as it gets low.
Airbags
We've installed airbags all round the Civic Tourer, from driver and passenger front airbags to curtain airbags at the sides. Known as Supplemental Restraint System (SRS), the airbags offer you greatly enhanced protection while out on the road.
Emergency Stop Signal
Hazard warning lights rapidly flash when the Emergency Stop Signal is activated, warning following drivers that you may brake heavily - reducing the possibility of a rear-end collision.
Hill Start Assist
This system holds the brakes for you during a hill start, helping prevent roll back and making sure you get away without any problems.
Vehicle Stability Assist
The VSA system monitors the speed of the car as well as the relative speed of each wheel, the amount of turn on the steering wheel and the yaw and lateral G-forces on the vehicle. Should the car deviate from its correct path, VSA activates to bring the car back on track by applying the brakes to any individual wheel or adjusting the engine output.
Lane Departure Warning
Detects road markings and if the car strays from your current lane without indicating, the system alerts you with audible and visual warnings.
Traffic sign recognition
How many times have important road signs whizzed past you in a blur? Traffic Sign Recognition (TSR) automatically recognises road signs and displays them via the Intelligent Multi Information Display, so you always know exactly what you've just passed.
TSR allows you to keep focusing on what's important – the road. The system can show two signs at a time on the i-MID system. It's like having a second pair of eyes on board.
Blind Spot Information
It can be frightening and dangerous when you fail to see another vehicle that is obscured by the door or window arches of your vehicle. We've introduced a Honda-first radar technology called Blind Spot Information, which can automatically detect vehicles where your vision is restricted and give you a warning.
Cross Traffic Monitor
This system warns you when you are reversing or approaching vehicles. Using rear side radar sensors located in the rear bumper of the car, it tells you the direction the vehicle is coming from.
City-brake active system
Not all accidents happen at high speed.
There are all kinds of bumps and knocks that happen in car parks or even on your own driveway. CTBA is a laser radar system that scans the road ahead, automatically applying the brakes if a risk of a possible collision is detected.
Honda CONNECT
The updated Civic features our new Honda Connect technology. It's a central touchscreen that puts all the things you love in life, like your music and your friends, right at your fingertips.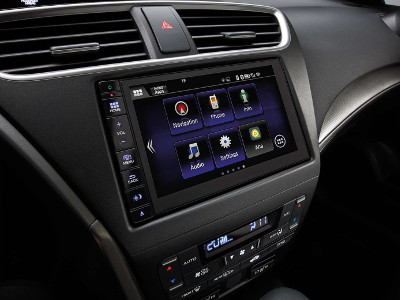 You can personalise the Honda Connect 7" touchscreen with your favourite photos. It gives you easy access to your mobile phone contacts, and you can even set up voice tagging.
On-board navigation is provided by Garmin™, which uses a simple icon menu to give you maps, real time traffic information and speed limit warnings1. Honda offers you a total of four annual free map updates after the purchase of your car.
The intuitive touchscreen gives you access to all your mobile phone functionality, including Bluetooth™. You've also got WiFi, USB and HDMI™ connections to give you internet and music for your journeys.
The AHA app gives you access to a host of radio stations and your favourite social media at the touch of a button.
Video: Honda Civic Feeling
Further information
For more information, or to arrange a test drive, please call our Sales Team on 01932 874411 or Contact Us On-line.
---
Standard on all models apart from the S ↩