Ottershaw Joins Honda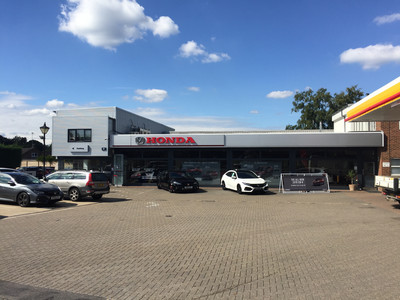 Trident Ottershaw joins the World of Honda
Trident Garages is well known locally as a long-established family business, with dealerships in Ottershaw and Weybridge. The Trident name has long been associated with MG Rover; but, after 42-years, it is all change at Trident Honda, as the last of its MG Rover dealerships, based at Ottershaw, has now joined the World of Honda.
We visited Trident Ottershaw as the last of the Honda signs were being erected, and there was a real buzz amongst the staff. The showroom looked thoroughly modern, following its renovation last year, with additional design touches now being introduced by Honda.
Trident Honda's managing director, Richard Roberts, says:
Trident Honda has seen many changes over the past 5 decades and the change to Honda throughout our Group is one of the most significant and positive developments to date. With their fine engineering and superb attention to detail, Honda is the ideal business partner for Trident Honda and we are excited to be able to supply such magnificent machines to our customers.
There was good news too for its MG Rover customers, as Trident Honda's managing director, Richard Roberts, explains:
Our MG Rover customers have been understandably nervous about how and where they will be able to have their cars maintained. We are delighted to be able to reassure them that, alongside our new Honda customers, we will be continuing to service and repair MG Rover cars for many years to come.
Trident Honda still has a number of MG Rovers which it will continue to sell from its Ottershaw branch. These cars are supplied with a comprehensive 1-year nationally-accepted warranty.
For further details please contact Trident Honda Ottershaw on 01932 874411 or visit their showroom on the A320 Guildford Road, between Woking and Chertsey.