Honda CR-V - not all 4x4's are the same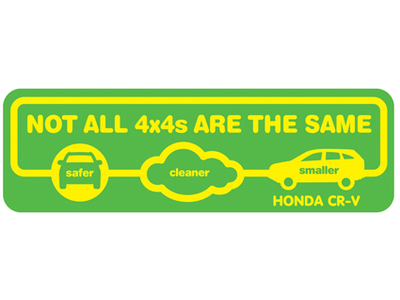 HONDA IS supplying ammunition to drivers of its 4x4s in the first concerted effort by a car-maker to combat the growing antagonism towards gas-guzzlers.
The Swindon maker is to send a letter and stickers to all new customers of the new CR-V to help them defend themselves from 4x4 detractors. It is a direct response to concerned Honda customers asking for help, says the car-maker.
The stickers and letter both carry the message 'Not all 4x4s are the same'. They highlight the fact that the Honda CR-V is cleaner, safer and smaller than most.
John Kingston, Environment Manager at Honda (UK) says:
The 'one size fits all' approach of Anti 4x4 protesters is confusing
The letter addresses the major concerns of the Anti 4x4 lobby:
Too dirty? The new Honda CR-V is not only cleaner than other SUVs - its exhaust emissions are lower than some large estates, hatchbacks, MPVs and even a Mini Cooper S
Too big? The CR-V has a footprint that's a similar size to a Ford Mondeo (and smaller than a BMW 523iE)
Too dangerous? The current CR-V achieves a 3-star rating for pedestrian safety - which, according to industry experts Euro NCAP, puts it in the top 10% of pedestrian-friendly cars on the road. Also, the current model gets 4-stars for occupant safety. As for the all new CR-V, we are aiming for yet another high level result.
This is the first time a car manufacturer has taken direct customer action on this debate.
Honda's view was reinforced by Richmond Council's announcement, last week, of its plans to penalise the dirtiest and thirstiest vehicles.
Some customers have expressed their concerns and frustration about being criticised for driving a CR-V - no surprise when you consider this Honda is incredibly clean, not a gas-guzzler, smaller than most 4x4s and is remarkably safe for both passengers and pedestrians.