SUV Buyers are turning green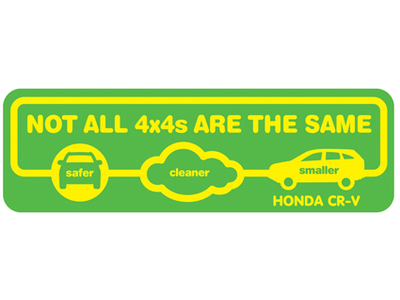 Britain's SUV buyers are making greener choices in the showroom, according to latest industry sales figures. Cars like Honda's CR-V are selling better than ever, as they offer a cleaner, smaller alternative to the traditional 4x4 stereotype.
Despite negative public feeling towards 4x4s – that influenced a drop of 4% in the sector – sales of the low emissions CR-V increased by 28 per cent over the first six months of the year (11,665 cars to the end of June 2007 versus 9,086 for the same period last year) – and the Honda continues to top the charts as the UK's favourite SUV.
The result follows the launch of Honda's Not all 4x4s are the same campaign, which highlights the fact that the CR-V is cleaner and smaller than most other SUVs on the market – as well as some saloons and hatchbacks. A special window sticker and letter were sent to new and existing CR-V owners at the end of last year.
Our customers asked us how to defend themselves from so-called 'Anti-4x4 protesters',
says Vicky Mason, Customer Dialogue Manager at Honda (UK).
And their response to this campaign has been incredible. More people have reacted to this campaign than any other – even more than competitions to win a car! Our customers were pleased to see us getting involved with the debate.
As well as being cleaner and smaller than other SUVs, the CR-V also has an enviable safety rating from Euro NCAP, with four stars for occupant safety, two for pedestrian and four stars for child safety.
Honda aims to sell 21,000 CR-Vs in 2007 – around 6,000 more than last year. The latest CR-V is priced from £18,727 OTR.
The CO2 emissions from a new Honda CR-V 2.2 i-CTDi (173g/km) are lower than many saloon cars and even some hatchbacks.