Helene Raysnford wins Gold in Beijing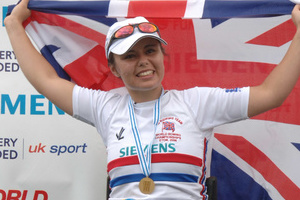 Date: 11/09/2008
Guildford-based rower Helene Raynsford has become the Paralympic champion in the Women's Single Sculls.
Trident Honda have been sponsoring Helene since October 2007 when she purchased a Honda CR-V to help carry her boat and training equipment.
Commenting on Helene's success, Trident Honda's Managing Director Richard Roberts said: We're all delighted for Helene and immensely proud of her achievement. To break the world record in the semi-final makes her victory even sweeter. It's testament to all her hard work over the years, and we at Trident Honda are honoured to have played our small part.
Helene was odds on for gold at the Shunyi Olympic Rowing-Canoeing Park after a stunning performance in her semi-final. Her time of 5mins 38 seconds smashed the world record.
Helene is a member of Guildford Rowing Club. She was 2006 World Champion in the Women's Single Sculls and was named BBC South's Sportswoman of the Year 2006. To support Helene and find out more about her rowing please visit her website.