Latest official pictures of Honda Insight revealed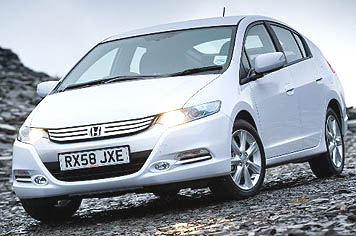 Official pictures of the UK-spec Honda Insight hybrid have leaked onto the web ahead of this weekend's Detroit motor show.
The UK version of Honda's new 'affordable hybrid' differs only slightly from the production-ready US model unveiled at the end of last year, with new clear indicator lenses and conventional round fog lights.
The Insight is part of a family of green Hondas that include the FCX Clarity hydrogen fuel car, Jazz hybrid and the forthcoming production version of the CR-Z concept.
Honda has yet to confirm the details of the new Insight hybrid, but power is likely to come from the 1.4-litre iVTEC engine from the new Honda Jazz coupled with the latest version of Honda's hybrid system.
The Honda Insight hybrid will go on sale in Spring this year and is expected to undercut the Toyota Prius, with prices starting at £15k.