Scrapping for Points This Weekend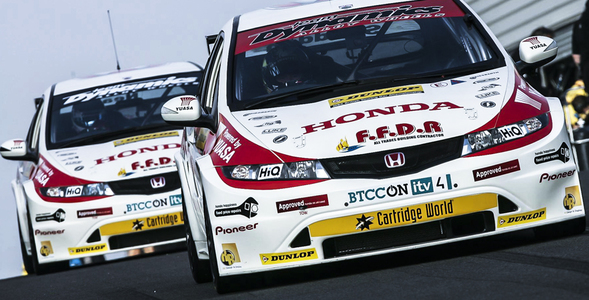 Both Honda Racing Team aces Matt Neal and Gordon Shedden are predicting a no holds barred scrap for points in the 2010 Dunlop MSA British Touring Car Championship when the action moves to Donington Park this weekend. Neal and Shedden are in the thick of the hunt for this season's spoils and know that Sunday's three races in Leicestershire will be crucial to the title run-in.
Neal is currently second in the standings and he says that he will be absolutely flat out around the sweeps of the historic track. Neal says:
I have got to grab every opportunity that comes my way, so there will be no backing off, Donington Park will be a great leveller - I am not expecting anyone to have a dominant weekend and the track has plenty of overtaking areas. That means the racing is close and, with it being a critical stage of the season, it will be every man for themselves. The Civic has a particularly strong chassis and that helps around the long, long corners at Donington Park. We need to work on making the most out of that to give us enough in hand to fend off the rest. But this season has been so competitive that finding an edge is virtually impossible.
Neal says that a big points tally over the three races will be vital to keep the heat on the points leader (Jason Plato) going in to the last three races at Brands Hatch in October.
The pressure's not on me, It is on the guy leading the points. He has got something to protect but the only option for me is to go on full attack from the word go and that is an interesting position to be in. It will be an all-action weekend.
Teammate Gordon 'Flash' Shedden is in Neal's slipstream in the points and also thinks that the action at Donington Park is going to be spectacular. He is fourth in the standings but is tantalisingly close to his first overall title. He has also promised to go for broke at Donington:
It's reaching a climax now and none of the top drivers can afford a bad weekend, The Honda has traditionally gone well at Donington Park and that means we are fairly confident going there, but there's little to choose between anyone. There are more than 50 points up for grabs over three races and that means the balance of power for the title chase could look hugely different after this weekend. I am in a great car, it is a great circuit and so we have the ingredients we need for a big points haul this weekend.
Shedden also says that team glory is on the agenda this season and the races at Donington could prove a vital step towards securing silverware. The BTCC operates a championship for the different marques in the contest and Honda is leading both the constructors and teams' championships.
Honda is sitting pretty in the teams and makes points too, and that is on our minds, If we can take a major step towards those titles after Donington Park then that would be a huge target achieved. It is a crucial weekend all round.