Honda Jazz with Hybrid Tech: As Practical as Ever - with Lower Emissions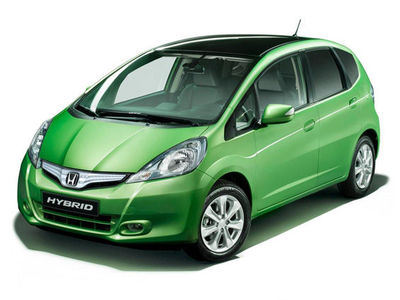 Making its debut at the Paris Motor Show this week, the hybrid version of the Jazz features Honda's innovative petrol-electric IMA system and retains the practical characteristics found in the supermini, while lowering emissions and improving fuel economy.
John Kingston, Government Affairs and Environment Manager, Honda (UK), explains:
We think that a cleaner, more economical version of the Jazz will be a big hit with customers, The IMA hybrid technology is incredibly easy to use, owners don't need to worry about plugging anything in to charge. It's simply a case of filling up with petrol and driving on as normal.
The Jazz will feature the same 1.3 litre i-VTEC as the Insight hybrid and despite its taller body shape, the new car has similar CO2 emissions of 104 g/km* - 21g/km less than the current lowest-emitting 1.2 litre petrol Jazz. As well as the environmental benefits, the cleaner emissions bring more affordable driving too: road tax exempt for the first year and just £20 a year after.
Like the Insight and Civic Hybrid models, the hybrid version of the Jazz will be capable of running on the electric motor alone under some medium and low speed conditions and this contributes to a combined fuel consumption figure of 64.2 mpg1 - a 23 per cent improvement over the best-selling 1.4 ES model.
Honda has added this cleaner hybrid technology to the supermini while retaining the flexibility of its unique folding Magic Seats. The IMA battery pack and power control unit have been integrated in the area under the boot floor, keeping the normal boot area of 300 litres and allowing the Magic Seats to fold in the same manner as non-hybrid versions. This means that the seats still fold entirely flat to provide a surprising large boot space of 831 litres, or the seat bases can be folded to sit vertically to accommodate tall items within the car.
The Jazz with hybrid technology will be unveiled at the Paris Motor Show and will go on sale in the UK in early 2011. Prices, homologated emissions levels and full specifications will be announced at a later date.
---
Combined cycle and CO2 figures from internal Honda tests and not homologated at the time of writing. ↩