Newly launched CVT Jazz and Jazz Hybrid - available to test drive now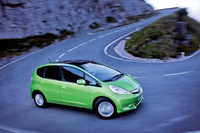 Back by popular demand, the new Jazz is now available with automatic Continuous Variable Transmission (CVT). It adapts seamlessly to different driving speeds, keeping the engine in the most efficient and economical power range. The performance is strong and smooth, even at low speeds, and if you're stopped on a slope the Hill Start Assist prevents you rolling backwards.
If you prefer a more hands-on drive, there is a conventional 5-speed manual gearbox with a new Jazz petrol Manual. Both the 1.2 and the 1.4 i-VTEC engines combine impressive fuel economy and low emissions with a great driving experience.
Save for a rainy day, every day
The new Jazz is already remarkably fuel efficient. But the new Hybrid model offers even more miles for even less petrol. Hybrid cars use a small petrol engine that works with an electric motor to give you all the power you need, just from less fuel.
The hybrid Jazz drives, sounds and behaves like a normal petrol engine, and you fill up at the petrol station in just the same way. However, the colour of the dashboard changes to let you know how economically you're driving. Better still, there's no road tax to pay in the first year. So you can save money on the road as well as at the pump.
Whatever engine option you choose, whether manual or CVT, petrol or hybrid, you'll find the Jazz is a very economical little Honda.
Endless possibility for endless possibilities
All the models in the Jazz range have Magic Seats which easily adapt at the touch of a button to give you over 180 seat combinations. They flip up, fold down and recline, so you can comfortably fit in whoever, and whatever, you need to.
There are also a whole range of new finishing touch like Bluetooth© Hands Free Telephone (HFT) system, leather upholstery and chrome detailing inside on selected grades. Add these to the updated stylish exterior and the new 2012 Jazz really is a little car that's big enough to fit your life into.
The new Jazz models are now available to test drive at our Weybridge and Ottershaw dealerships.