Honda CR-V Transports Dancing Stars Vincent and Flavia in Style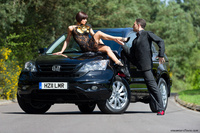 Vincent Simeone and Flavia Cacace, the stars of Strictly Come Dancing, are travelling the length and breadth of Britain in style thanks to a Honda CR-V.
Honda (UK) provided the British-built SUV to transport the pair to theatres around the country to perform in their own show - Midnight Tango.
Flavia Cacace says:
The Honda CR-V is one of the best cars we've ever had. It's been a dream to travel in, it feels incredibly safe and steady while the seats are extremely comfortable and there's plenty of space too.
The Midnight Tango Show will be performed at Woking's New Victoria Theatre this coming weekend from 10th - 14th May.