Night Fishing on a Goldfish Powered by Honda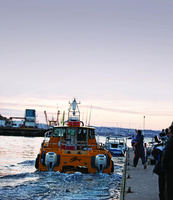 The latest film in Honda's Channel 4 campaign stars Ben Hersey, a night fisherman from Devon who uses two Honda BF135 marine engines to power his boat 'Goldfish'.
This mini-documentary is the second in a series of films which explore and celebrate real-life people who use their Honda cars, ATVs, lawn mowers, generators, marine engines and motorbikes in unusual and extraordinary ways. Viewers may remember Philippa, the alpaca farmer, zipping around on her Honda ATV tending to her 100-strong herd in the first film which aired on 26 May 2011.
The new film follows Ben and his crew as they set off from Brixham harbour at sunset and head out 30 or 40 miles into the English Channel to fish above wrecks where the biggest shoals of fish are found. It premieres on Wednesday 20 July, supporting the documentary '24 Hours in A&E' on Channel 4.
Viewers will be introduced to Ben and Goldfish in the bumpers which sit between the documentary and the advert breaks, while the full two minute version of the film will be available to view on http://www.honda.co.uk/stories.
In addition to the full length film, visitors to the website will find Ben's very own Bass Fish Finger recipe alongside his top fishing tips and a video showing how to set up a rod. Plus, fans and followers of Honda (UK)'s Facebook page http://www.facebook.com/hondacarsuk and @honda_uk Twitter feed will have the opportunity to submit their best fish recipe to be in with a chance of winning a fantastic fish related prize.
The nationwide search for people who use their Honda car, motorbike, lawn mower, ATV or generator in an extraordinary way continues. It could be using a Honda generator to power sheep scanners or transforming a Civic into an ice cream van. Whatever the story, if it's unexpected and just a little bit daft, Honda wants to hear it.
The person judged as using their Honda in the most extraordinary way will have their story turned into a film online and broadcast on Channel 4 and More 4 as part of Honda's documentary sponsorship. Budding stars can tell their story and enter the competition online at http://www.honda.co.uk/stories where a regular gallery of entries will be posted to inspire other entrants. The competition is open now and closes at the end of September 2011.