Victory for Honda Yuasa BTCC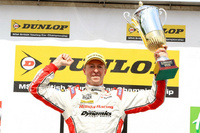 An excellent weekend of racing for the Honda Yuasa Racing Team saw both Matt and Flash claim victory in all three races. Great driving from the men behind the wheel saw Matt grab his two first place trophies in Race 1 and 3, and Flash claim his in Race 2. It was the team's best set of British Touring Car Championship results in 2012 and puts them in pole position in all three standings tables.
Up next is Croft on 24 June – remember to 'like' the official Honda BTCC Facebook page to keep up with all the action.