McLaren-Honda prepares for 2015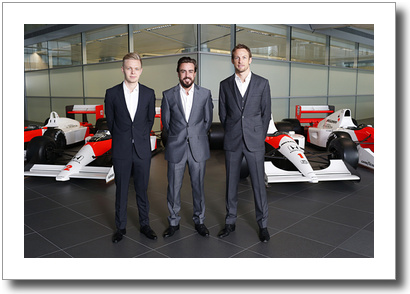 McLaren-Honda is delighted to announce its new driver line-up for 2015: Fernando Alonso and Jenson Button. Kevin Magnussen will remain an important part of the team, as test and reserve driver.
All three men will play crucial roles in re-establishing the ascendancy of one of global sport's most iconic unions, for McLaren and Honda have already formed one of the most dominant partnerships in motorsport history: Honda broke new ground in the 1980s by creating a turbocharged engine that was unparalleled in both its output and its efficiency. In 1988, the partnership created arguably the single most successful Formula 1 car of all time: the all-conquering McLaren-Honda MP4/4, which was driven to victory by Ayrton Senna and Alain Prost in an amazing 15 of the season's 16 grands prix.
The lure presented by those same goals has once again brought the legendary Japanese corporation back to the pinnacle of global motor racing; and, again, that company, Honda, is developing its revolutionary new turbocharged engine at its all-new purpose-built state-of-the-art motorsport facility in Sakura, Japan.
Fernando Alonso said:
I have had in-depth discussions with all the senior people at both McLaren and Honda, I have viewed their fantastic facilities in both the UK and Japan, and it is clear to me that, together, McLaren and Honda are in the process of beginning what is sure to be a long and successful partnership. And I intend to give 100% effort to help make it exactly that.
Jenson Button said:
"Like Fernando, I am certain that McLaren and Honda will achieve great things together, and I feel sure that, working together, all of us will pull incredibly hard to create a brilliantly effective winning team.
Looking forward, I know the Honda guys well, having driven Formula 1 cars powered by their engines from 2003 to 2008. I have a huge amount of respect and admiration for them, and promise to give 100% to make their partnership with McLaren a success.
Ron Dennis (Chairman & Chief Executive Officer, McLaren) said:
I am absolutely delighted to be on the threshold of leading McLaren-Honda to a new era of partnership, and I speak on behalf of all at McLaren when I say that. I am equally confident that our colleagues at Honda share that determination and passion to win.
Yasuhisa Arai (Senior Managing Officer, Honda R&D Co Ltd; Chief Officer of Motorsport, Honda) said:
Our partnership with McLaren goes from strength to strength, and I am very excited to welcome as part of our Formula 1 team two great world champions, Fernando and Jenson.