New Trident Honda Stocklist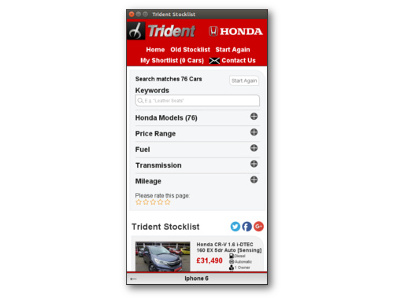 We're delighted to launch our new Used Car Stocklist. Designed for mobile and tablet use, as well as for wider desktop screens, we have tried hard to design a stocklist that would be slick, modern, but above all - easy to use.
The new site also uses the latest encryption technology, to ensure that your data are transmitted from your browser to our offices securely.
We very much hope that you enjoy using the new stocklist, but please do not hesitate to Contact our Webmaster if you encounter problems.
To visit the new stocklist simply visit Used Cars on the side menu, or navigate to: