2016 Honda Jazz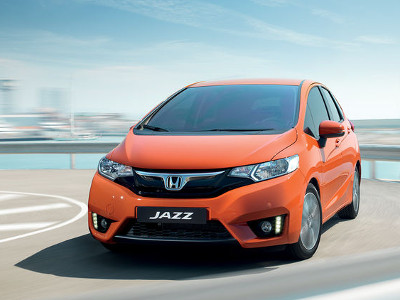 The new Jazz has an updated, sportier design. All built with performance in mind.
For 2016, the Jazz is home to distinctive new styling - including a new face with a bold front grille, sculpted bumpers, and strong, sweeping lines. All round, it's a powerful new look.
The Jazz keeps its classic silhouette, but the stronger, tougher design has grown the chassis to improve legroom for rear-seat passengers. Each curve and arch has been purposefully refined to improve both fuel efficiency and handling, too.
With a much lower profile than before, the Jazz's chassis also has an enhanced centre of gravity. The body sits on steel or alloy wheels that finish the sporty look - choose whichever suits you best.
Compact and comfy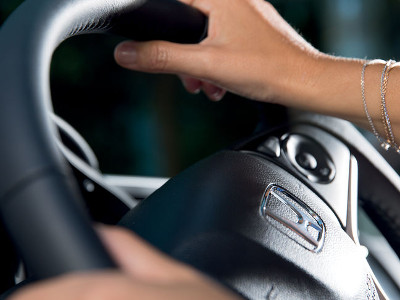 The Jazz might be small in form, but it's full of quality comforts that match much bigger cars.
Sit behind the wheel of the new Jazz and you'll immediately feel at home. Your hands will intuitively find the controls and you'll see the dials are clear and easy to read - all built with premium materials, too.
The Jazz comes with features like cruise control, steering wheel remote audio controls, and electric adjustable door mirrors as standard. If you like, you can add even more extras to your Jazz - with a choice of five grades.
Efficient power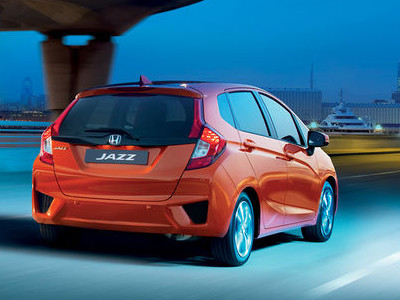 The Jazz is a top economical performer that delivers up to 61.41 miles-per-gallon - helping you spend less at the pump.
The new Jazz is equipped with our efficient 1.3 litre i-VTEC engine - pushing out an impressive 102PS. It's complete with Earth Dreams Technology, the name we've given to our next-generation engines and transmissions that boost performance and reduce environmental impact at the same time.
Automatic or manual? The Jazz comes with either a new 6-speed manual, or our advanced Continuously Variable Transmission (CVT) automatic gearbox. Either way, enjoy a smooth and carefree ride that uses less fuel.
Whatever driving style suits your needs, you'll find a transmission that delivers the driving experience you want. Both transmission models deliver exceptional performance and economy, and with Idle Stop, you can save even more on fuel. When you come to a standstill at traffic lights and put the car in neutral, Idle Stop cuts the engine, and then automatically restarts when you accelerate. It may seem like a small adjustment, but over time it can make a big difference.
Keeping you safe
The Jazz has been fitted with airbags all round, including curtain airbags. Known as Supplemental Restraint System (SRS), the airbags offer you greatly enhanced protection while out on the road.
Also equipped with Vehicle Stability Assist (VSA), the VSA sensors monitor the Jazz's grip while you drive. To help stabilise the vehicle, it calculates the amount of power or braking-force needed for maximum control.
The new Jazz comes available with our Advanced Driver Assistance Safety Pack2, a suite of innovative technology including:
Traffic Sign Recognition
Traffic Sign Recognition[2] (TSR) automatically recognises road signs and displays them via the Intelligent Multi Information Display, so you always know exactly what you've just passed.
City-Brake Active System
All kinds of bumps and knocks can happen in car parks or even on your own driveway. CTBA[2] is a laser radar system that scans ahead, automatically applying the brakes if a risk of a possible collision is detected.
Lane Departure Warning
Lane Departure Warning[2] detects the road markings. If the car strays from your current lane without indicating, the system alerts you with audible and visual warnings.
Forward Collision Warning
Forward Collision Warning[2] detects the vehicle in front. If the system detects the possibility of a collision, audible and visual warnings will prompt you to take action.
Highbeam Support System
The Highbeam Support System[2] assesses the driving conditions around you and switches automatically between high and low beam.
Intelligent Speed Limiter
Honda's Intelligent Speed Limiter[2] uses information from the Traffic Sign Recognition System, and allows the driver to set a speed limit via the steering wheel control.
More space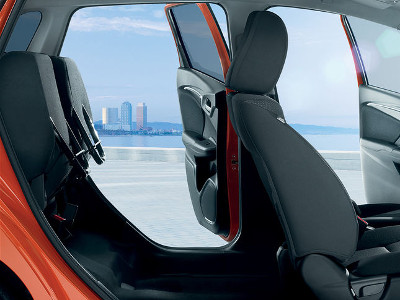 We've cleverly re-designed the Jazz's interior to house more room for you and your passengers.
The new Jazz is even bigger on the inside than before - and with our ingenious Magic Seats system, you'll have bags more room as and when you need it. Configuring in a multitude of positions, the interior extends from 354 to 1,314 litres - offering unmatched versatility and class-leading space. Carry passengers, luggage, anything you like.
Even when you have the seats upright and a car full with passengers, the new Jazz still manages to offer more room than ever before. In fact, the Jazz comfortably outsizes anything in the supermini class, and even beats some saloon cars, too. Fancy that?
Stay connected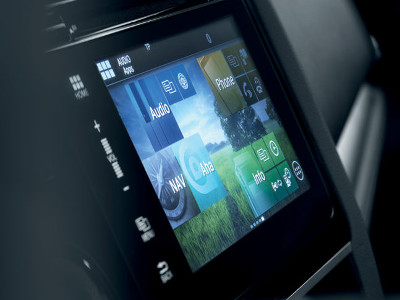 The Jazz features our new Honda CONNECT technology. Available on the SE, SE Navi, EX and EX Navi trims, Honda CONNECT is a central touchscreen that puts all the things you love in life, like your music and your friends, right at your fingertips.
You can personalise the Honda CONNECT 7" touchscreen with your favourite photos. It provides easy access to your mobile phone contacts, and you can even control it with your voice.
The intuitive touchscreen gives you access to all your mobile phone functionality, via Bluetooth™. You've also got WiFi, USB and HDMI™ connections to easily connect internet and music for your journeys.
The AHA app gives you access to a host of radio stations and your favourite social media at the touch of a button.
Video: Four cars in one
Further information
Please call our Sales Team on 01932 874411 or Contact Us On-line.