The 2017 Civic Type R is now available to drive at Trident Honda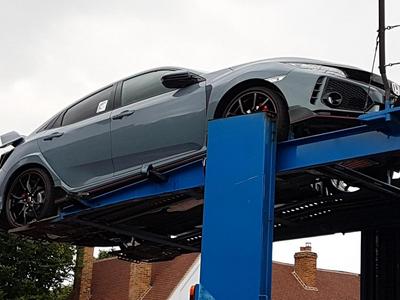 Last week our first new 2017 Civic 2017 Type R demonstrator arrived at Ottershaw. There was much excitement at Trident Honda over the arrival of this stunning new model.
Our new demonstrator has now been prepared and is ready for customer demonstrations. If you would like to have a test drive, please contact our Sales team on 01932 874411.
Key stats
| Item | Value |
| --- | --- |
| Max speed | 169 MPH |
| 0-62 mph | 5.7 secs |
| Combined MPG | 36.7 MPG |
| Engine layout | 2.0-litre 4-cylinder VTEC turbo |
| Maximum power | 320 PS |
| CO2 | 176 g/km |
What the press say
Auto Express (Best Hot Hatch at Auto Express Awards 2017):
The Type R's more mature nature hasn't come at the expense of excitement
New Car Net (read more):
Throughout the Civic Type R there's a recurring theme of precision. There's something almost clinical about the way it dissects a good road, covering ground at a rate we simply wouldn't have thought possible for a front-wheel drive hot hatch a few years ago. At the same time, improvements to the ride, interior quality and acoustics have all succeeded in broadening out the car's appeal. It remains a relatively hardcore choice, but one that's now far more accessible.
New Motoring (watch):
What to make of the new Type R? In a word - it's brilliant
Inside Lane (watch):
One of the best hot hatchbacks in its class? Undoubtedly.
Autocar (read more):
So away from the all-wheel-drive, all-weather mega-hatches, the Honda Civic Type R remains alone, with a fundamentally appealing character unlike anyone else's hottest hatchbacks. And there's quite a lot to like about that.
Car Throttle (read more):
I'm very happy to report that the FK8 Type R has no obvious flaws that I can think of. It now rides brilliantly, is perfectly comfortable over long distances, looks wicked (I know I'm in a minority here) and is a car you can use as a daily driver and as a track car that will embarrass almost anything you put in its path.
Top Gear (read more):
We're going to stick our bits on the block and name this the new hot hatch king
Videos
Further Information
If you would like to have a test drive, please contact our Sales team on 01932 874411. For further information, please see: