Civic Type R wins BBC TopGear Magazine Car of the Year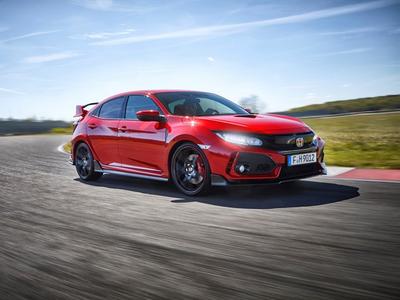 The Honda Civic Type R has triumphed in the coveted BBC TopGear magazine Car of the Year awards, taking a hat-trick of honours. Picking up the hot hatch of the year, international editors' car of the year and then going on to claim the overall prize, car of the year.
BBC TopGear magazine said:
The Civic Type R isn't just the best Hot Hatch of the Year, it's the best Car of the Year,
It's addictive, rhythmic and devastatingly rapid; a true hero for the masses delivering accessibility and madness in one package. The thrill comes from the sheer single-mindedness of it.
The awards issue of BBC TopGear Magazine is their annual celebration of the very best cars of the year. As the world's largest monthly car magazine, this year their awards went global with the editors of all 22 of their international editions voting for their favourite cars of the year.
Built in Swindon, the Civic Type R shares the same fundamentals as the new Civic hatchback and has been engineered from the ground up to deliver the most rewarding drive in the hot-hatch segment - both on road and on the race track.
Steve Henderson, dealer principal and commercial director at Trident Honda, commented:
These three awards are evidence of the excellent new models Honda is currently producing. The Civic Type R has received fantastic reviews since its launch, and winning TopGear's Car of the Year truly tops it off. We hope that this news attracts even more customers to the showroom to take a look at the Civic Type R, as well as the tenth generation Civic, and celebrate its 25th anniversary. Congratulations to all the designers, engineers and associates that have built these brilliant cars.
The Civic Type R has a top speed of 169mph and can do the 0-62mph sprint in just 5.7 seconds. The power comes from the 2.0-litre VTEC TURBO engine that has been optimised and refined to produce 320 PS with peak torque of 400 Nm.
To find out more about the Honda Civic Type R, or to book a test drive, visit our Type R page, or call 01932 874411.