Honda Dominates with a Double Award Win at the Workshop Magazine Awards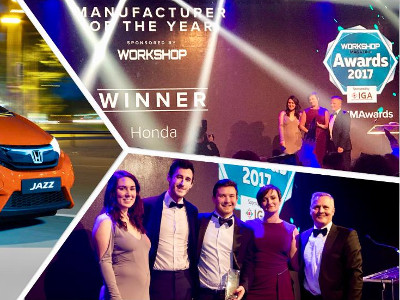 Honda has triumphed at the inaugural Workshop Magazine awards, picking up Car of the Year with the Jazz and the coveted Manufacturer of the Year.
Readers voting for the Jazz praised the car's logical design which makes it simple to repair. It was also noted that parts are readily available from Honda. Similarly, the manufacturer of the year was voted for by readers and Honda was commended for its efficiency and strong relationships with workshops.
Aimed at garage owners, managers and automotive technicians, Workshop magazine held its first awards last night at the Brewery in London celebrating and recognising the best and brightest in the industry.
Trident Honda Dealer Principal and Commercial Director, Steve Henderson, says:
Whilst Honda's reliability is well known, what perhaps is less well known is what the motor industry itself thinks of Honda. These awards demonstrate that even within the motor trade Honda's reliability and commitment to its product is legendary.

We would like to offer our congratulations to Honda for yet another well deserved award.
The current Jazz builds on the strong reputation of its highly successful predecessors. The global car, also known as the 'Fit' in some markets, has sold over 5,000,000 units worldwide since the first generation model was introduced in 2001. The model will receive a facelift in the New Year with a 1.5 i-VTEC engine being added to the range alongside new trim levels.
Rebecca Chaplin, Head of Editorial at Blackball Media, said:
We had feedback from a lot of garages all praising the Honda Jazz for being easy to work on, reliable and for Honda itself when it comes to getting parts for it. It was a tough contest but nothing else could quite match it!

Equally, Honda should be delighted with the manufacturer of the year award because it's a testament to what the workshop industry believes is the best manufacturer to work with. Franchise and independent garages love working with Honda because, whether they need parts or support, it always come up trumps offering the best service for workshops when they need it.
Phil Webb, Head of Car at Honda UK added:
With both of these awards being voted for by the readers of Workshop magazine, it makes them all the more powerful and all the more special with Honda being recognised by those at the sharp end on the tools in the workshop,"
Please read more about the Honda Jazz, view our latest offers, or contact us to arrange a test drive.